Suspect Scott #347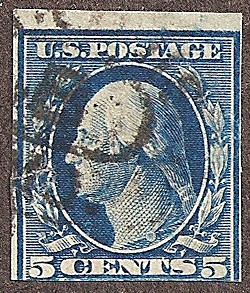 This is a moderately valued stamp - $37.50 catalog value and is is not highlighted in the Experts Book as a candidate for being faked though was flagged at the no longer active www.1847USA.com did caution that the #347 may be faked by trimming the perforations off of a #335.
The defining feature of a Scott #347 is that it is a double line watermarked stamp. Dipping the suspect stamp in watermark fluid or viewing in my Safe Signoscope watermark detector shows what may be a single line "U" watermark - see the images below.
| | | |
| --- | --- | --- |
| Safe Signoscope view - barely visible single line "U" in bottom right corner. | Suspect in watermark detection fluid. | Watermark fluid view enhanced with decreased brightness and increased contrast. |
In conclusion: because the watermark is single line the suspect has to be either a Scott #378 or a Scott #428 with perforations trimmed off on four sides.
Reference material used:
The Expert's Book. A practical guide to the authentication of United States stamps. By Paul W. Schmid.
How to Detect Damaged, Altered and Repaired Stamps. By Paul Schmid
As always comments and suggestions are always welcome.
---
To Contact Riverside Stamps:
Email:
Mike Girard - Owner / Operator / Web Master: g1rardmn1099@comcast.net
---
I am a member of the American Philatelic Society

Member of:

APS #: 205494
Visit the American Philatelic Society
Website at www.stamps.org

I am a member of the United States Stamp Society




USSS #:

16733


Visit the United States Stamp Society
Website at www.usstamps.org

I am a member of the Internet Philatelic Dealers Association


IPDA #: 231
Visit the Internet Philatelic Dealers Association
Website at http://ipdastamp.org
---