Suspect Scott #354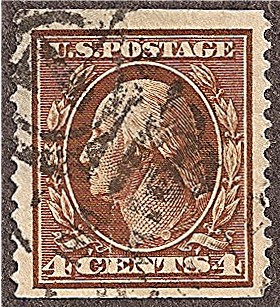 This is an expensive stamp if it were real - $275 catalog value and is often faked. Lets take a look at the particulars of this stamp. It should be perforated 12 vertically with a double line watermark.
I looked at the watermark first, it will be a good start if it really is a double line watermark but alas what I found was a single line watermark reversed "S" viewed horizontally. It can be seen in the lower left of this view taken from my Signoscope watermark detector. I've included two additional images of my cardboard template positioned on the single line watermark and double line watermark illustrations found on page 197 and page 199 of Paul Schmid's The Experts Book. As you cam see there is no way to mistake the watermark on the suspect stamp for a double line "S", it's just too small.
There are no perf 12 coils with single line watermarks, the only 4c Washington that is perforated 12 and has a single line watermark is Scott #377. In my opinion someone took a #377 and trimmed off the top and bottom perforations to try and pass the stamp off as a #354 which probably wouldn't fool anyone except the most novice of of collectors.
Reference material used: The Expert's Book. A practical guide to the authentication of United States stamps. By Paul W. Schmid
As always comments and suggestions are always welcome.
---
To Contact Riverside Stamps:
Email:
Mike Girard - Owner / Operator / Web Master: g1rardmn1099@comcast.net
---
I am a member of the American Philatelic Society

Member of:

APS #: 205494
Visit the American Philatelic Society
Website at www.stamps.org

I am a member of the United States Stamp Society




USSS #:

16733


Visit the United States Stamp Society
Website at www.usstamps.org

I am a member of the Internet Philatelic Dealers Association


IPDA #: 231
Visit the Internet Philatelic Dealers Association
Website at http://ipdastamp.org
---