Suspect Scott #388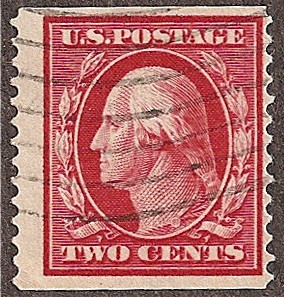 This is a very expensive stamp if it were real - $2,250 catalog value and is very often faked. Lets take a look at the particulars of this stamp.
The height is only 24mm - a red flag right off the top. Ideally the height should be 25mm but there are cases where the height can be less if the stamp was hand trimmed to match the heights of paste up joints.
The perforations gauge out to a perfect 11.93 on the Instana gauge which is correct for this issue and the water mark is the correct single line type.
I looked at the straight edges and found no definitive perf divots left over from trimming but there are a few that I suspect are but can't say for sure. The other thing that caught my eye on the top edge was that the cancel seems to stop just before the edge leaving a thin white space. I took a look at other coil stamps in my collection to see how cancels look at a straight edge and found in every case that the cancels go all the way to the edge leaving no white space. Below are two images showing the cancels at the edge. the image on the left is the #388 and the one on the right is another coil stamp from my collection.
| | |
| --- | --- |
| Notice how the cancel stops just short of the edge leaving a white beveled cut edge. | Notice how the cancel goes all the way to the edge covering the beveled edge of the cut. |
At first I though the white edge was a result of a light strike but after looking at other cancel/edge interactions on the #388 I found some that go all the way to the edge leaving no white space. See the image below.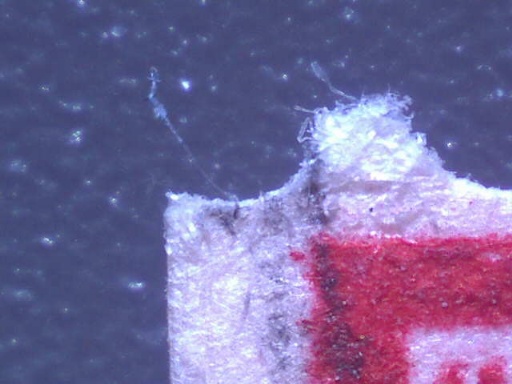 In conclusion I believe this to be a #375 that has been trimmed down to look like a #388
Reference material used: The Expert's Book. A practical guide to the authentication of United States stamps. By Paul W. Schmid
As always comments and suggestions are always welcome.
---
To Contact Riverside Stamps:
Email:
Mike Girard - Owner / Operator / Web Master: g1rardmn1099@comcast.net
---
I am a member of the American Philatelic Society

Member of:

APS #: 205494
Visit the American Philatelic Society
Website at www.stamps.org

I am a member of the United States Stamp Society




USSS #:

16733


Visit the United States Stamp Society
Website at www.usstamps.org

I am a member of the Internet Philatelic Dealers Association


IPDA #: 231
Visit the Internet Philatelic Dealers Association
Website at http://ipdastamp.org
---