Suspect Scott #446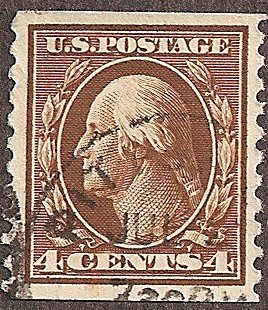 This is a pricy stamp - $150.00 catalog value and is sometimes faked. This stamp can be made by trimming the perforations off of a #427. There is no imperforate stock in which to add perforations to to manufacture this stamp so it comes down to just one thing when determining if this is a genuine stamp or not: are the straight edges good.
Lets look at the straight edges: the stamp measures 24.5mm tall - a bit small. The edges themselves are straight, parallel to each other and have the soft look and feel of a genuine cut edge. It's a whole different story when looking at the edges under magnification - I found what appear to be perforation pits along the top edge, I did not find any evidence of perforation pits on the bottom edge. the pits I found on the top edge were difficult to find but as you can see the match up well with a 10-79 Specialist gauge. Image below is of the top edge showing suspect perforation pits.

These four images below are close ups of the four suspected perforation pits. Of the four the top row right one was the only one that was a clear cut pit, all of the others are not that clear at all.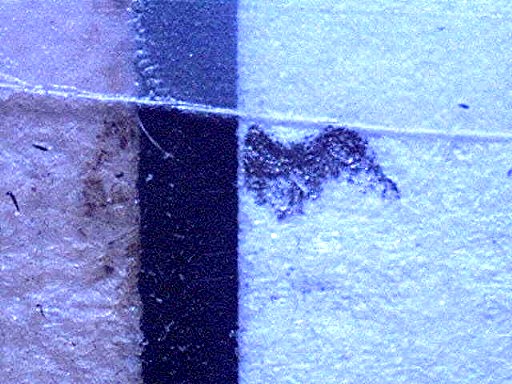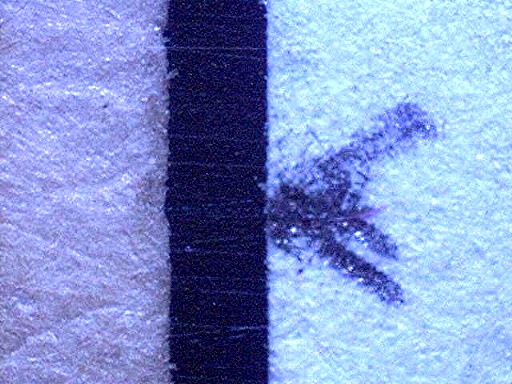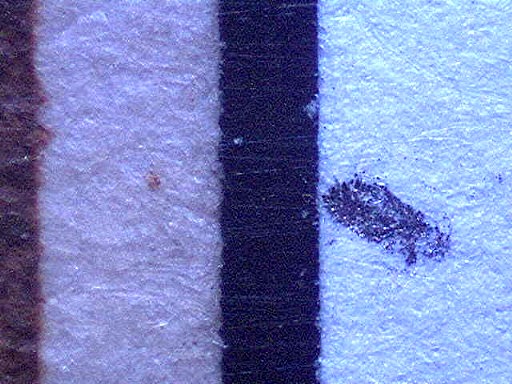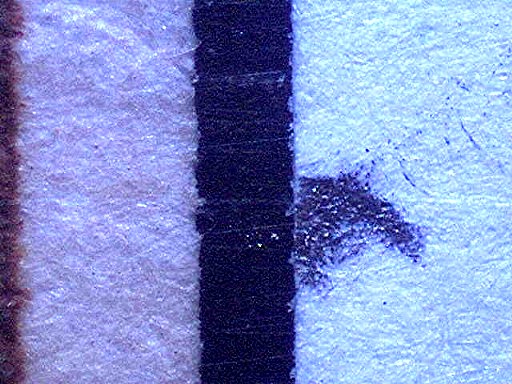 In conclusion: I believe that this stamp is a Scott #427 that has had the top edge trimmed, it's possible that the bottom edge is a natural straight edge because no suspect perforation pits were found.
Reference material used:
The Expert's Book. A practical guide to the authentication of United States stamps. By Paul W. Schmid.
How to Detect Damaged, Altered and Repaired Stamps. By Paul Schmid
As always comments and suggestions are always welcome.
---
To Contact Riverside Stamps:
Email:
Mike Girard - Owner / Operator / Web Master: g1rardmn1099@comcast.net
---
I am a member of the American Philatelic Society

Member of:

APS #: 205494
Visit the American Philatelic Society
Website at www.stamps.org

I am a member of the United States Stamp Society




USSS #:

16733


Visit the United States Stamp Society
Website at www.usstamps.org

I am a member of the Internet Philatelic Dealers Association


IPDA #: 231
Visit the Internet Philatelic Dealers Association
Website at http://ipdastamp.org
---