Suspect Scott #534B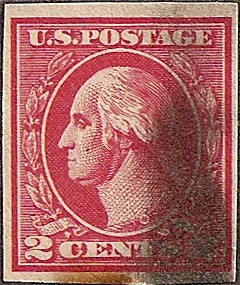 This is an expensive stamp if it were real - $1250 catalog value and is sometimes faked. Lets take a look at the particulars of this stamp. It should be imperforated, Type VII, with no watermark.
Let look first to see if it really is a Type VII. The two defining features of Type VII are four rows of three dots in the upper lip and extra dots added to the top of the head. Below are magnified images of the two locations.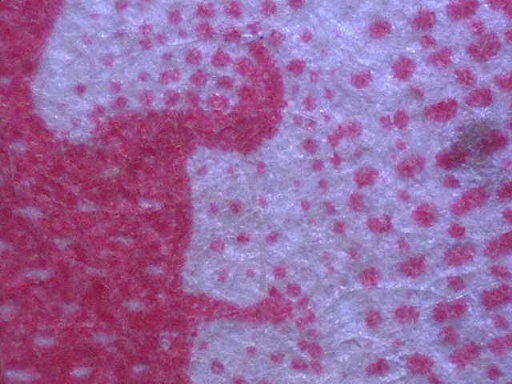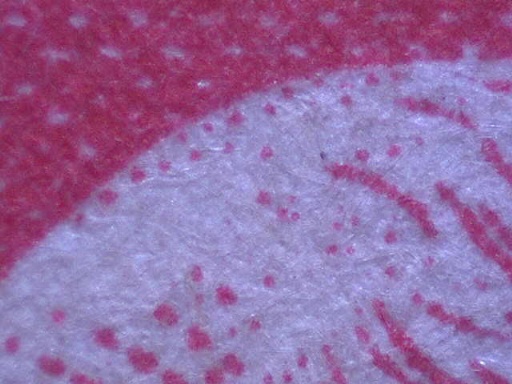 Next I'll look at the overall height and width of the stamp. According to the Experts Book the overall size of the stamp should be 21mm X 25mm. This stamp only measures 20mm X 24mm. I have a sneaky suspicion that this may be a cut down stamp.
I then looked at all the edges under X60 magnification and was not surprised to see remains of perforation dimples. Below is an image of two of the dimples. As you can see the two dimples line up perfectly with two pencil marks that are set for perf gauge 11.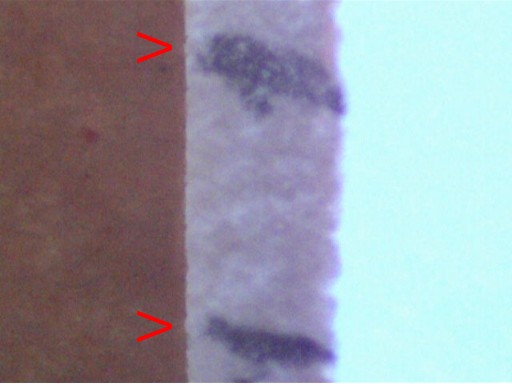 Conclusion: because the stamp is small in size both in height and width and there are remains of perforation dimples on all sides that gauge to a perfect perf 11 this stamp can only be a Scott #528B that has been cut down to resemble a #534B
Reference material used:
The Expert's Book. A practical guide to the authentication of United States stamps. By Paul W. Schmid
As always comments and suggestions are always welcome.
---
To Contact Riverside Stamps:
Email:
Mike Girard - Owner / Operator / Web Master: g1rardmn1099@comcast.net
---
I am a member of the American Philatelic Society

Member of:

APS #: 205494
Visit the American Philatelic Society
Website at www.stamps.org

I am a member of the United States Stamp Society




USSS #:

16733


Visit the United States Stamp Society
Website at www.usstamps.org

I am a member of the Internet Philatelic Dealers Association


IPDA #: 231
Visit the Internet Philatelic Dealers Association
Website at http://ipdastamp.org
---