Suspect Scott #318 Pair on Cover.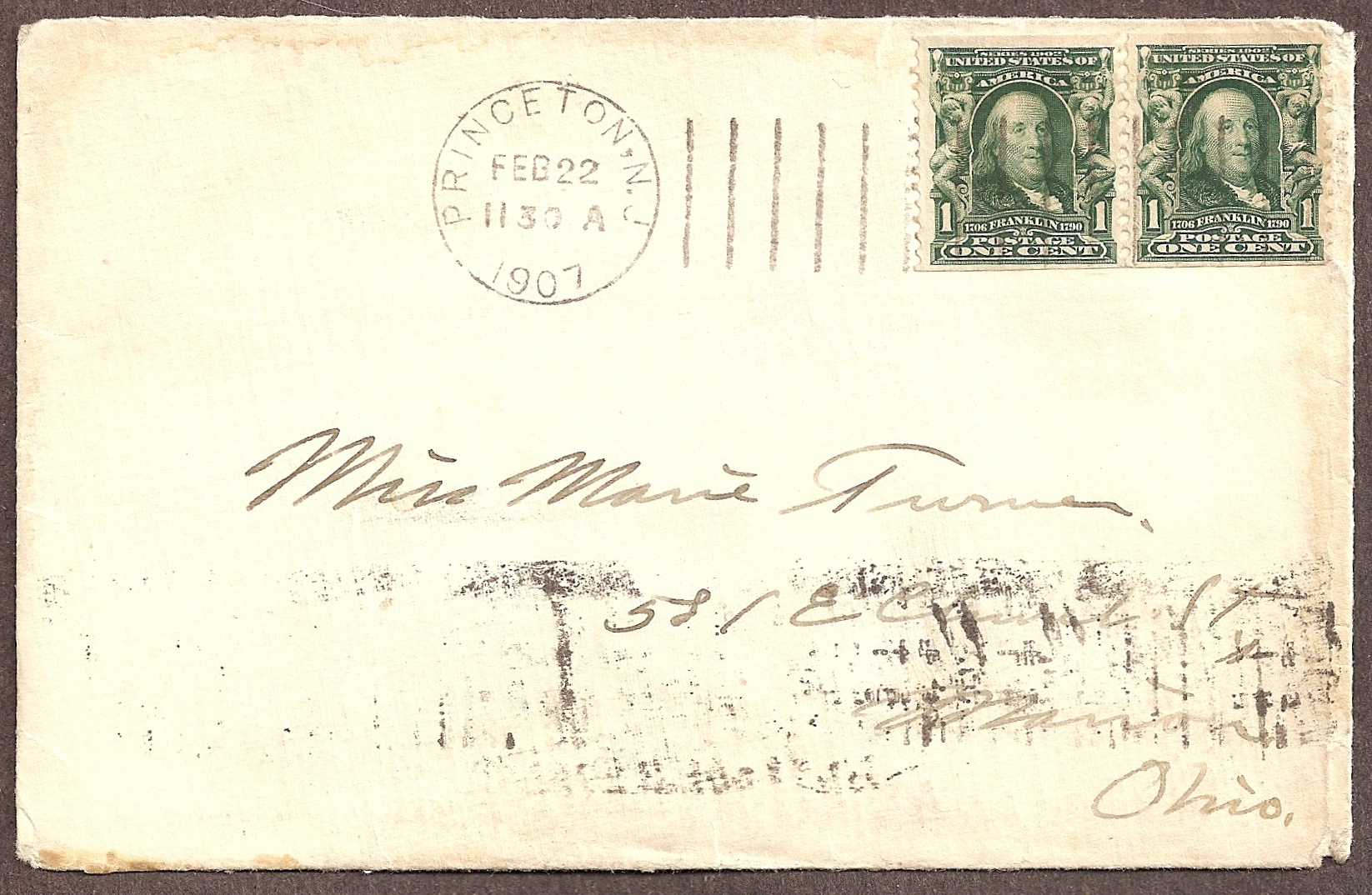 Scott #318 is a ridiculously rare and expensive stamp only known in unused condition. There are no known used singles or pairs on or off cover. This pair does pay the required two cents for a first class letter in 1907 and this stamp was available for use up until the first Washington/Franklin two cent was issued in November of 1908.
How does one go about proving this is a fake? First off what can this coil be made from? The only stock it could be made from is the Scott #300 sheet stamp by trimming the top perforations off of a pair with a natural straight edge on the bottom. A remote possibility would be the bottom pair of a booklet pane but that is unlikely because not only would the top perforations have to be trimmed off but the left and right sides would have to be reperforated as well.
Is the stamp properly tied to the cover? The sixth vertical bar of the Princeton, NJ machine cancel looks like it ties the stamp to the cover by the perforation tips, a closer look reveals that is not the case – see Fig. 1 and Fig. 2.
| | |
| --- | --- |
| Fig. 1 | Fig.2 |
As can be seen in the above images the perforations are stained with cancelation ink but they do not line up with the indents in the cancelation bar. This could mean that the pair of stamps was lifted from the cover, modified and reglued down to the cover but care was not taken to line up the stained perforations with the cancelation still on the cover.
There is evidence along the top and bottom edges of glue that smeared out from beneath the stamps when they were reattached to the cover - see Fig. 3, 4 and 5.
| | |
| --- | --- |
| Fig. 3 | Fig. 4 |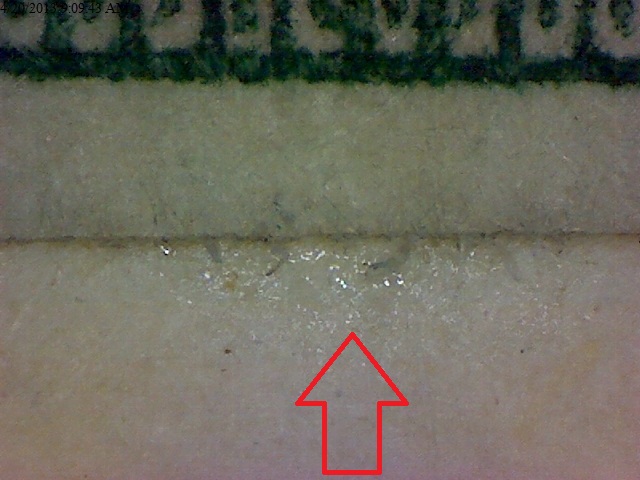 Fig. 5
The bottom edge, Fig. 6, looks like a natural straight edge from the day, it has that well-worn soft look of an old straight edge. According to Paul Schmid in How to Detect Damaged, Altered and Repaired Stamps, page 50, Table3.2 Positions of Natural Straight Edges for Selected United States Issues the 1c Scott #300 could have natural straight edges on any of four sides. The top edge, Fig. 7, on the other hand has a sharp crisp appearance that says it is a more recent cut.
| | |
| --- | --- |
| Fig. 6 | Fig. 7 |
This is an ordinary pair of Scott #300 with a natural straight edge at the bottom that was removed from the cover, trimmed of perforations at the top and glued back down on the cover to fake a pair of Scott #318.
As always comments and suggestions are always welcome.
---
To Contact Riverside Stamps:
Email:
Mike Girard - Owner / Operator / Web Master: g1rardmn1099@comcast.net
---
I am a member of the American Philatelic Society

Member of:

APS #: 205494
Visit the American Philatelic Society
Website at www.stamps.org

I am a member of the United States Stamp Society




USSS #:

16733


Visit the United States Stamp Society
Website at www.usstamps.org

I am a member of the Internet Philatelic Dealers Association


IPDA #: 231
Visit the Internet Philatelic Dealers Association
Website at http://ipdastamp.org
---