Suspect Scott #349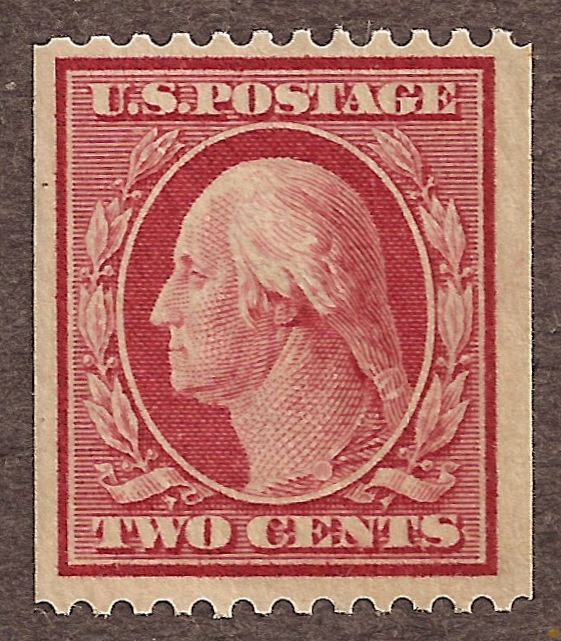 I bought this stamp on EBay for $1.80 as a known fake with the goal of getting it off of the market and doing a proper analysis on it. The catalog price for an unused HH #349 is a modest $90.00 and can be faked by adding perforations to #344, #344E or trimming perforations off of #332 and #332a. Below are the observations of the previous owner.
"21mm width"
"DLWM – Vertical"
"Edges not parallel"
"Slight perf. Indentations"
"Per. 12-66"
"Sheet stamp trimmed to make 349?"
"Perfs line up, suspect added"
I checked the watermark and it is indeed double line that read horizontally which eliminates the possibility of the suspect being a trimmed #332a booklet single. The perforations come next and at a quick glance they look suspect below are images of the suspects perforations overlaid on top of an Instanta perforation gauge.

As can be seen the top perfs mostly match the required 11.93 gauge but some of the perfs are offset especially the farther to the right one looks.

The bottom perfs also do not quite match up to the required 11.93 gauge. Below are two images of the suspect's perfs where they actually match up with the gauge.


As can be seen the suspect actually lines up with the 11.85 gauge. Another thing I noticed about the perforations is that the tips on top start out short and get longer while the left most perf hole on the bottom is slight farther away from the frame line then the right most perf hole giving a slightly slanted appearance to the line of perf holes.
Conclusion: since the perforations are faked the suspect can only be a #344 with added perforations.
Reference material used:
The Expert's Book. A practical guide to the authentication of United States stamps. By Paul W. Schmid.
As always comments and suggestions are always welcome.
---
To Contact Riverside Stamps:
Email:
Mike Girard - Owner / Operator / Web Master: g1rardmn1099@comcast.net
---
I am a member of the American Philatelic Society

Member of:

APS #: 205494
Visit the American Philatelic Society
Website at www.stamps.org

I am a member of the United States Stamp Society




USSS #:

16733


Visit the United States Stamp Society
Website at www.usstamps.org

I am a member of the Internet Philatelic Dealers Association


IPDA #: 231
Visit the Internet Philatelic Dealers Association
Website at http://ipdastamp.org
---