Suspect Scott #353, Used Single.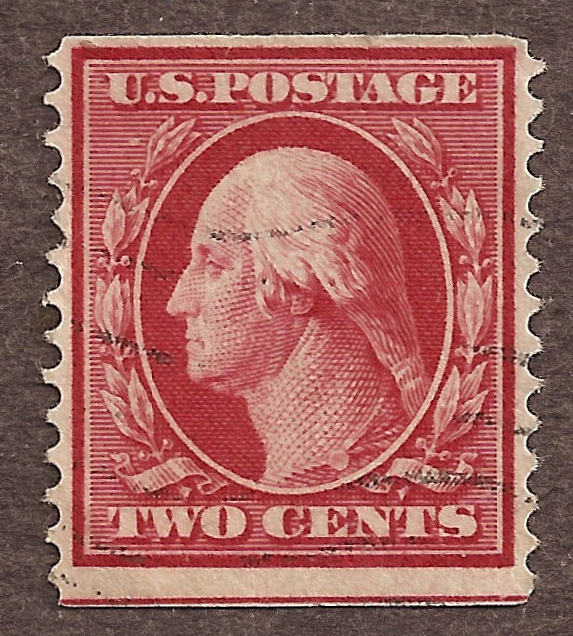 I bought this stamp on EBay for $5.00 as a possible fake with the goal of getting it off of the market and doing a proper analysis on it. If real this is a modestly expensive stamp with a Scott Catalogue value of $220.00 used. The Experts Book states that the #353 is often faked by adding perforations at left & right and trimming top & bottom a Scott #344, adding perforations at left & right to a Scott #344S or trimming perforations off at the top & bottom of a Scott #332.
The previous owner recorded no observations or opinions on this stamp.
The suspect measures just over 24mm which is way off the ideal 25mm. The orientation of the watermark canít be determined due to lack of detail. The perforations on the left side match well with genuine gauge 12 perforations but not so well on the right side, see images below. The bottom edge is a natural straight and there are no obvious indications of perforation remains on the top edge.


Conclusion: since the perforations on the right side do not line up very well I believe the suspect is a trimmed #344 that has had fake perforations added to the right and left sides.
Reference material used:
The Expert's Book. A practical guide to the authentication of United States stamps. By Paul W. Schmid.
As always comments and suggestions are always welcome.
---
To Contact Riverside Stamps:
Email:
Mike Girard - Owner / Operator / Web Master: g1rardmn1099@comcast.net
---
I am a member of the American Philatelic Society

Member of:

APS #: 205494
Visit the American Philatelic Society
Website at www.stamps.org

I am a member of the United States Stamp Society




USSS #:

16733


Visit the United States Stamp Society
Website at www.usstamps.org

I am a member of the Internet Philatelic Dealers Association


IPDA #: 231
Visit the Internet Philatelic Dealers Association
Website at http://ipdastamp.org
---