Suspect Scott #387, Used Single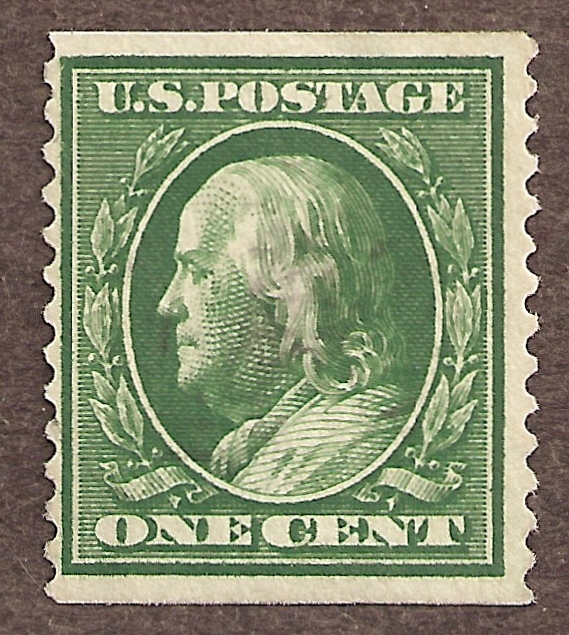 I bought this stamp on EBay for $10.53 as a suspected fake with the goal of getting it off of the market and doing a proper analysis on it. If this was a genuine stamp it would be a moderately expensive stamp - $140.00 catalog value and is often faked. This stamp can be made by adding perforations to a trimmed #383, adding perforations to a #383S or trimming perforations off of a #374. It comes down to two things when determining if this is a genuine stamp or not:
Are the straight edges good?
Are the perforations good?
The original owner's analysis is as follows:
FP • P12-66V
24.25mm
SLWM Vertical
Perfs, indentations @ bottom? Bottom cut?
Nice fake, would list as such.
Cannot offer an opinion.
The watermark is indeed single line, the suspect measures 24.25mm tall – just a bit short of the ideal 25mm. Next come the perforations, shown below are the suspect's perforations overlaid on genuine gauge 12 perforations.


As can be seen the left perforations don't match the genuine perforations in the least bit but the right ones match better but there is still enough inconsistencies to say they don't match.
In conclusion my opinion is that the suspect is a trimmed #383 with added perforations.
Reference material used:
The Expert's Book. A practical guide to the authentication of United States stamps. By Paul W. Schmid
How to Detect Damaged, Altered, and Repaired Stamps. By Paul W. Schmid
As always comments and suggestions are always welcome.
---
To Contact Riverside Stamps:
Email:
Mike Girard - Owner / Operator / Web Master: g1rardmn1099@comcast.net
---
I am a member of the American Philatelic Society

Member of:

APS #: 205494
Visit the American Philatelic Society
Website at www.stamps.org

I am a member of the United States Stamp Society




USSS #:

16733


Visit the United States Stamp Society
Website at www.usstamps.org

I am a member of the Internet Philatelic Dealers Association


IPDA #: 231
Visit the Internet Philatelic Dealers Association
Website at http://ipdastamp.org
---