Suspect Scott #390 Used Single.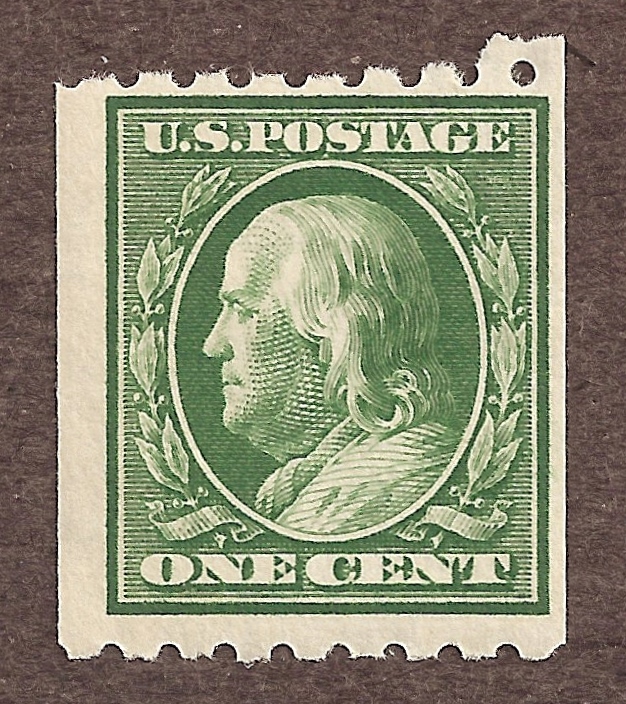 This stamp was part of a larger collection of larger collection of Washington/Franklins I bought at auction in January of 2014. From the Experts Book – "Ordinary pairs of this coil are rarely faked. It is an inexpensive coil and the imperforate stock from which it can be made costs about the same. Guideline pairs, however, are often faked, because the unused value multiplier is about 4x." This coil can be made by adding perforations at the top and bottom of a trimmed #383 or adding perforations at the top and bottom of a #383V imperforate coil.
Since there is no fully perforated sheet stock from which to trim the left and right sides it stands to reason that if the perforations are found to be genuine then the suspect must be genuine.
A search of The Philatelic Foundation certificate database returned 233 examples and none were deemed to be fake, 20 of the total were singles.
The watermark is an inverted "U" near the bottom and it is impossible to tell if it is reversed or normal.
The width of the suspect is 21.5mm which is spot on for the issue but not a determining factor for being genuine.
The suspect has one intact perforation at the top right which shows all of the signs of being genuine – slightly oval in shape, pulled paper fibers on the left side of the hole and there is a pressure ridge visible on the right side if the hole under low magnification and angled lighting. Unfortunately the pressure ridge did not photograph well.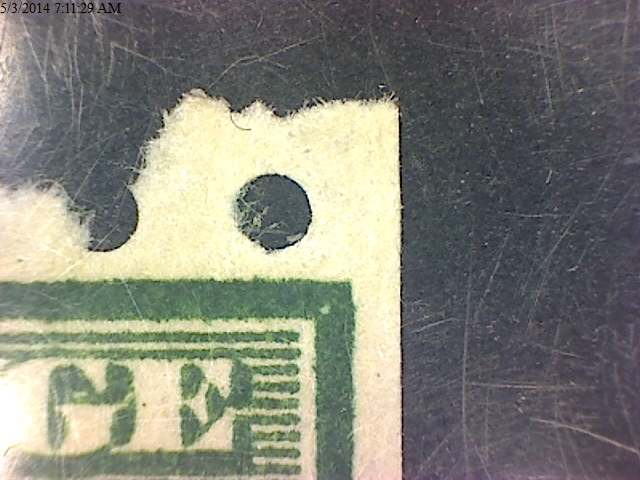 The top and bottom perfs also show the same characteristics of being genuine.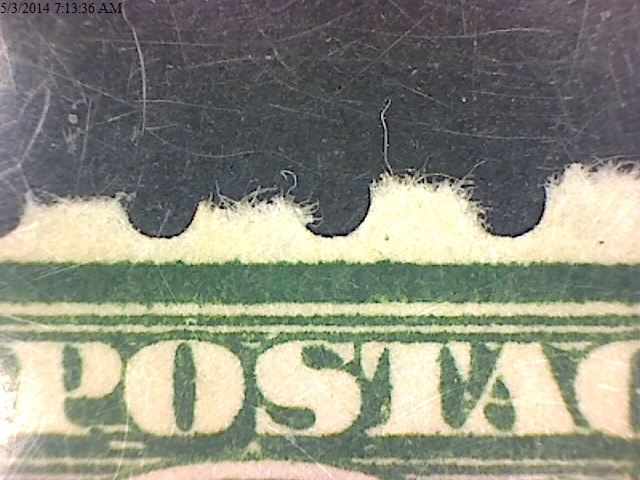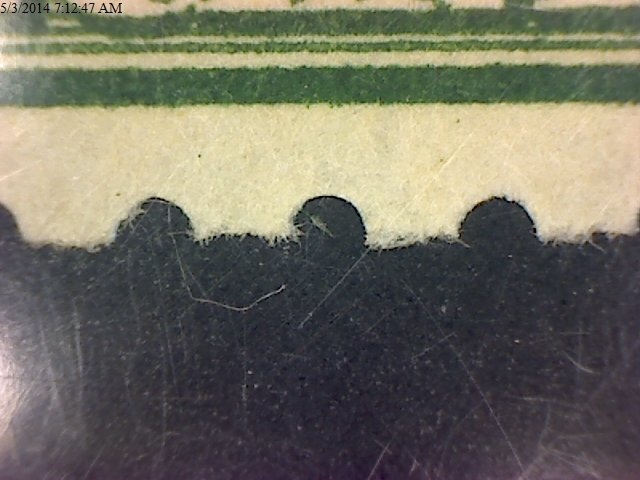 The suspect perforations also match known genuine gauge 8 ½ perforations.

Conclusion: in my opinion the perforations are genuine therefore the suspect is a genuine Scott #390, previously hinged.
Reference material used:
The Expert's Book. A practical guide to the authentication of United States stamps. By Paul W. Schmid.
As always comments and suggestions are always welcome.
---
To Contact Riverside Stamps:
Email:
Mike Girard - Owner / Operator / Web Master: g1rardmn1099@comcast.net
---
I am a member of the American Philatelic Society

Member of:

APS #: 205494
Visit the American Philatelic Society
Website at www.stamps.org

I am a member of the United States Stamp Society




USSS #:

16733


Visit the United States Stamp Society
Website at www.usstamps.org

I am a member of the Internet Philatelic Dealers Association


IPDA #: 231
Visit the Internet Philatelic Dealers Association
Website at http://ipdastamp.org
---