Suspect Scott #443 Unused Guideline Pair.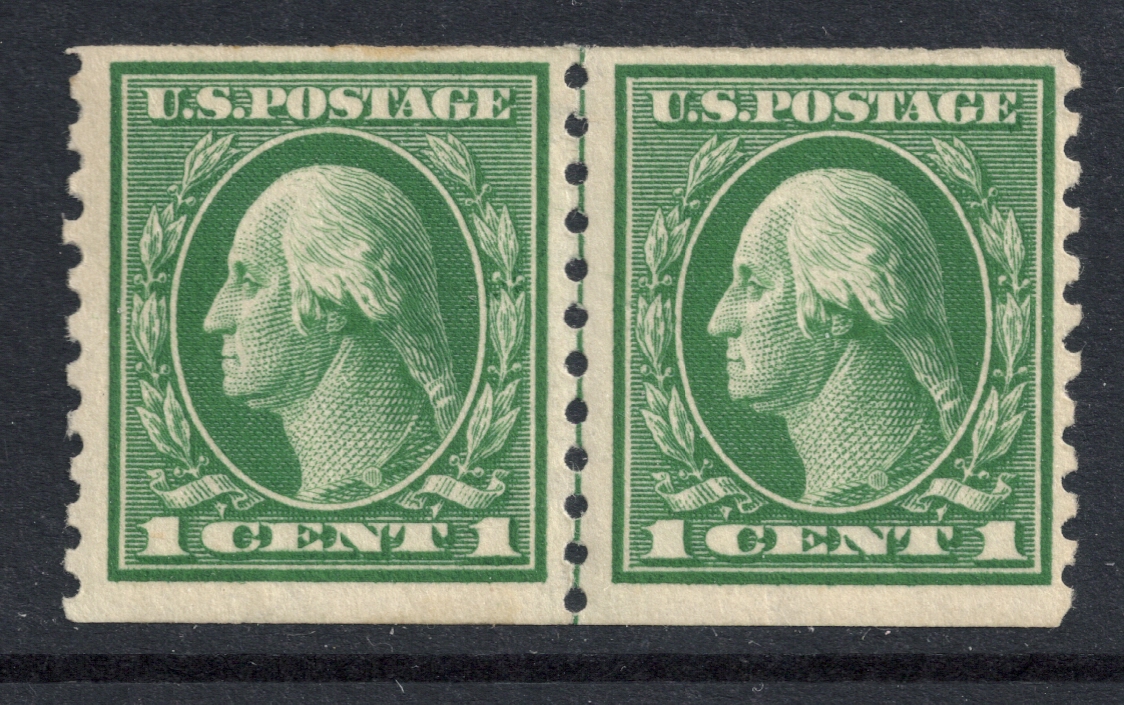 This analysis was for a client. This is a moderately priced stamp with a catalogue value of $325. This coil is often faked and can be manufactured from the following stock: adding fake perforations to a trimmed imperforate #408, adding fake perforations to the imperforate horizontal coil #408H, trimming the perforations off the left and/or right of a perforated #424.
The watermark is single line, normal and reads horizontal, the layout is on the right.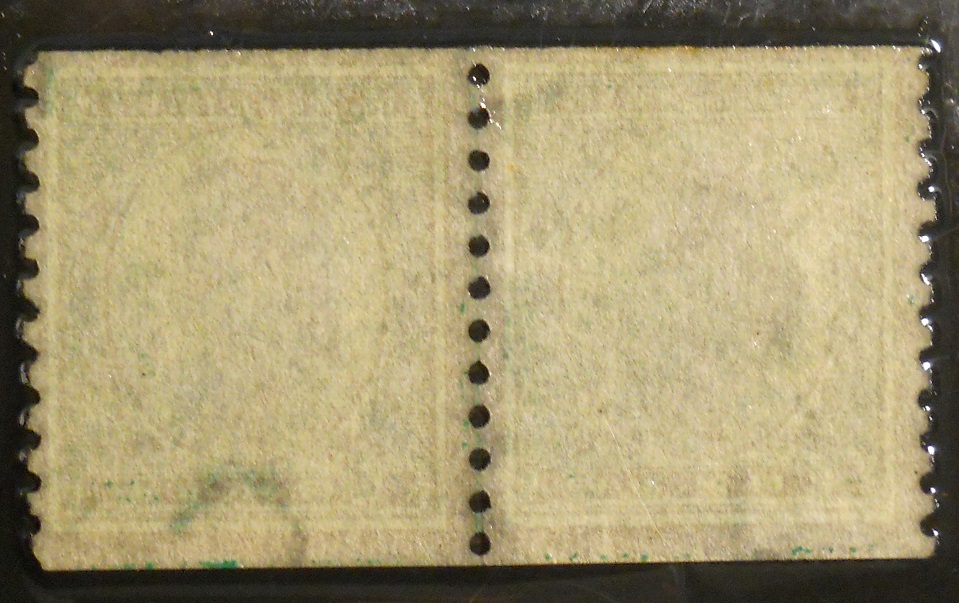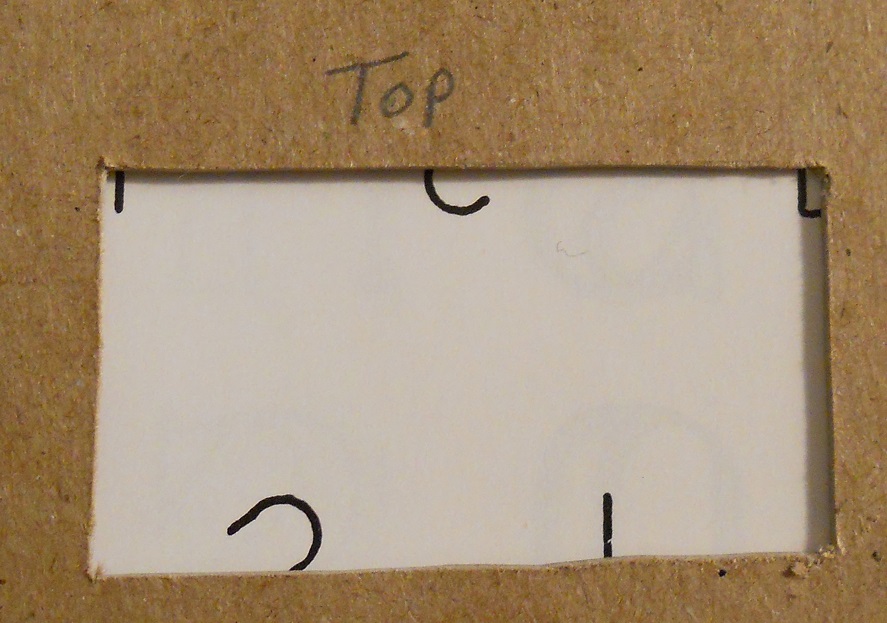 The suspectís perforations were overlaid on an Instanta gauge.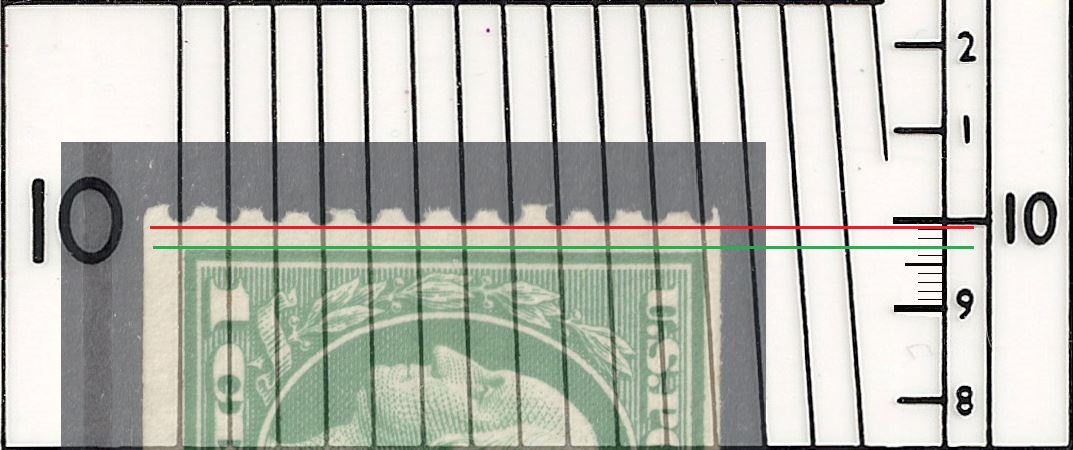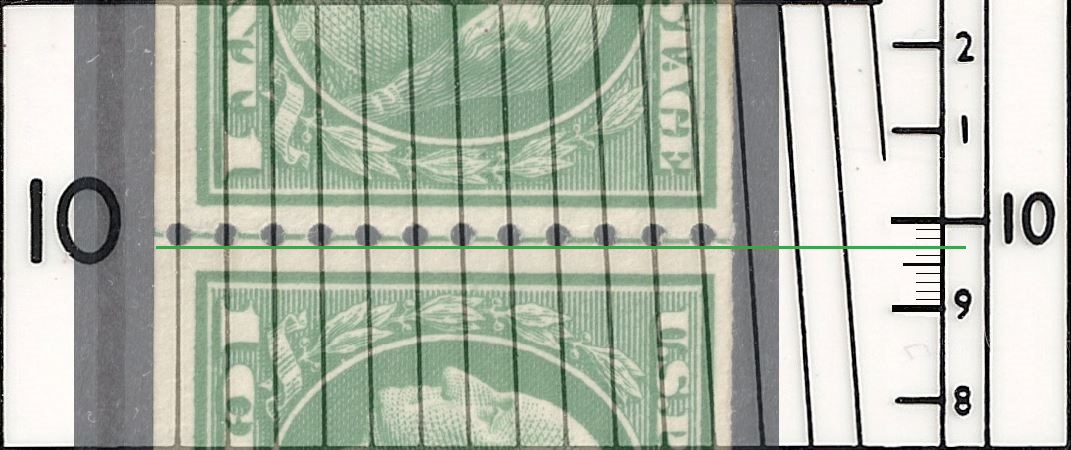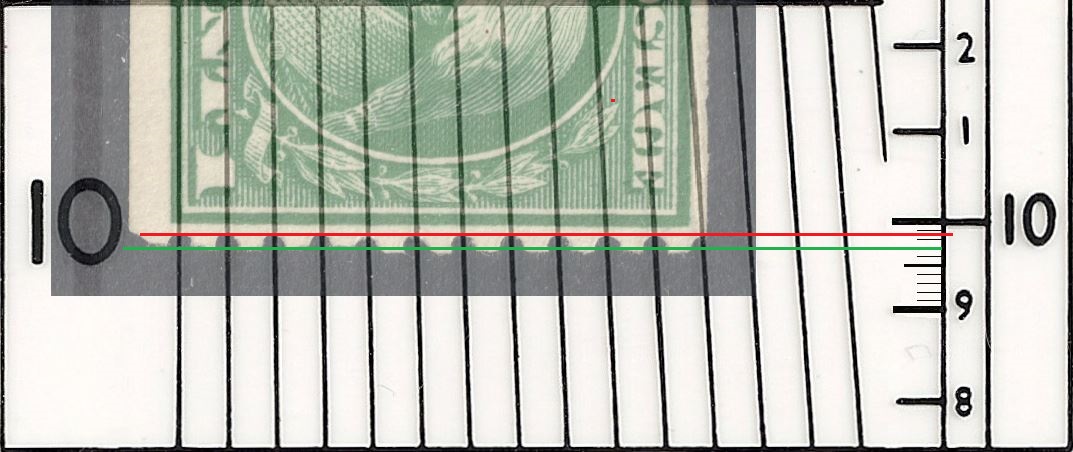 As can be seen the perforations of the suspect are very close to the correct 9.97 gauge. All of the perforations have the hallmarks of being genuine Ė slightly out of round, deformations at the top of each hole. The following images show the perforations close-up.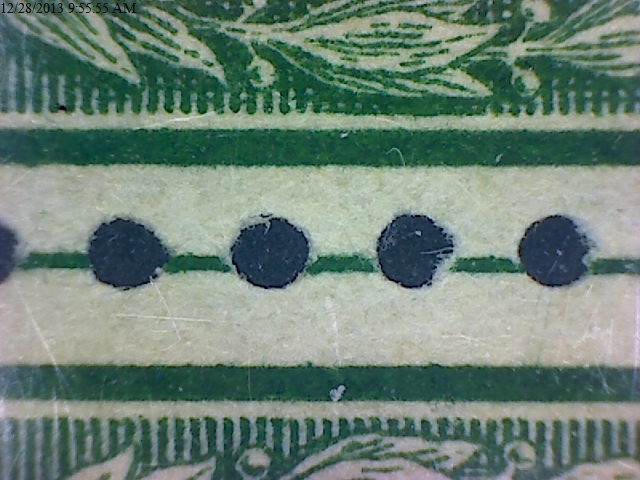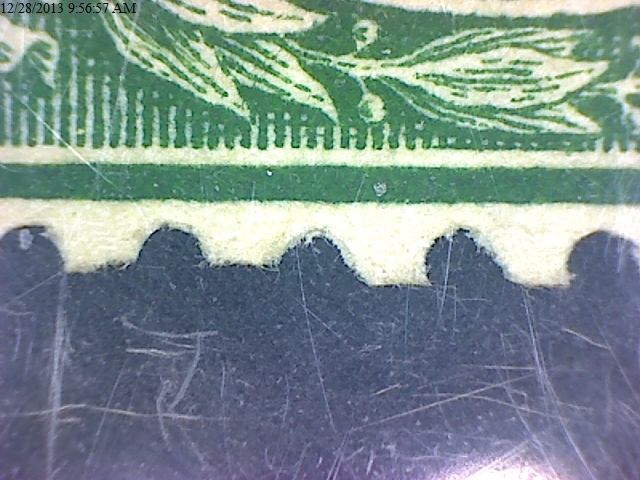 The height of the suspect is 24.5mm at the left and right which is slightly shorter than the ideal 25mm. The top and bottom edges are parallel with each other and the frame. Neither the top or bottom edges show any evidence of recent trimming but the bottom edge feels sharper than the top edge.
The guide line was checked with foil and found to be genuine.


Fig. 6
Conclusion: In my opinion the perforations are genuine, the guide line is genuine and the top edge is genuine and Iím pretty sure the bottom edge may be genuine. Iíll err on the side of caution and say that the suspect is a #424 with the bottom perforations trimmed off. I told the client that this one is definetly worth turning in for a proper check out.
The client did send the suspect to William Weiss to be expertized (Bill has since retired and no longer expertizes stamps) and the returned opinion is that the pair is indeed a fake but states it is a #408 with added perforations whereas I said it was a #424 with the perforations trimmed off of the bottom. Looking back I can see where I made my mistake with the perforations, at the time of my analysis I had overlaid the suspects perforations on to genuine perforations and failed to notice that the fit was not a perfect match.



Flipping the perforations onto themselves highlights the fit problem even better.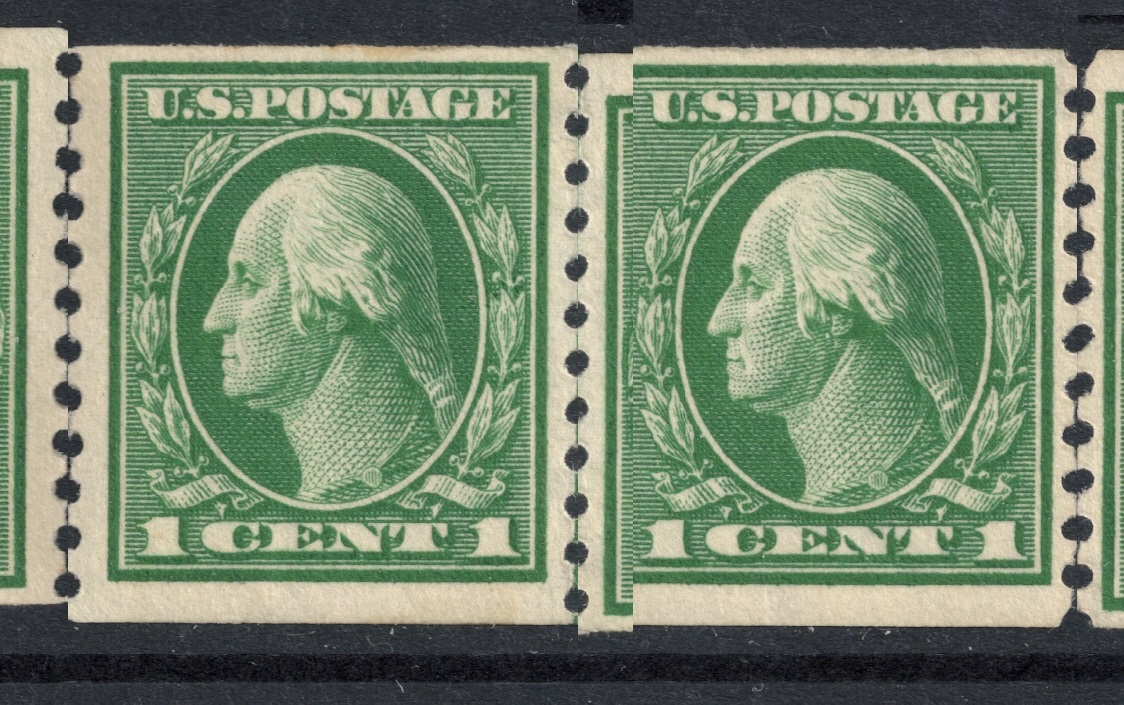 By themselves the perforations are very convincing and the lesson I've learned is that all evidence needs to be considered with equal weight and if any test shows what may be an inconsistency or possible fault then it needs to be taken seriously.
Reference material used:
The Expert's Book. A practical guide to the authentication of United States stamps. By Paul W. Schmid.
As always comments and suggestions are always welcome.
---
To Contact Riverside Stamps:
Email:
Mike Girard - Owner / Operator / Web Master: g1rardmn1099@comcast.net
---
I am a member of the American Philatelic Society

Member of:

APS #: 205494
Visit the American Philatelic Society
Website at www.stamps.org

I am a member of the United States Stamp Society




USSS #:

16733


Visit the United States Stamp Society
Website at www.usstamps.org

I am a member of the Internet Philatelic Dealers Association


IPDA #: 231
Visit the Internet Philatelic Dealers Association
Website at http://ipdastamp.org
---