Suspect Scott #446 Used Single (12/13/15).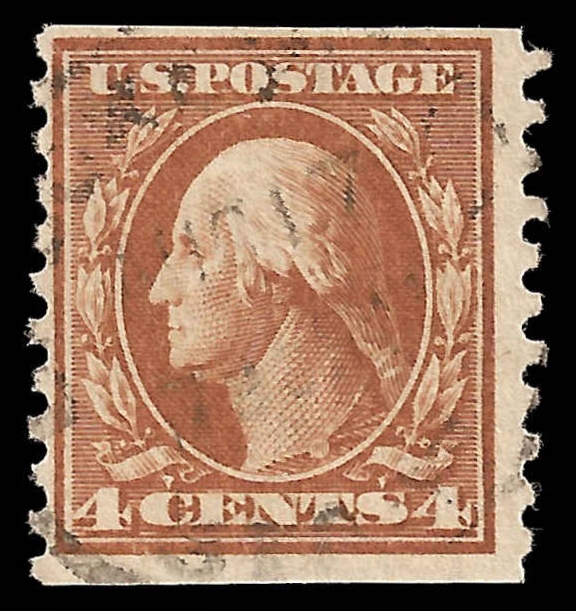 According to The Experts Book this stamp is sometimes faked and can only be manufactured from a #427 by trimming the perforations off at the top and bottom edges. As a side note the #427 does not come in booklet form and there is no single line watermark flat plate imperforate stock in which to make a fake from therefore the perforations can be assumed to be genuine. The only imperforate stock is the #346 but it is double line watermarked and a fake made from it would not fool anyone. The #446 can be confused with the single line watermarked rotary press printed #457 or in rare cases the unwatermarked rotary press printed #495. A search of the Philatelic Foundations certificate database found 634 issued certificates with two being misidentified #457 and a single misidentified #495. The catalogue value is $150 for a used single.
To eliminate the possibility that the suspect is a rotary press printing it was overlaid on the Flat Plate/Rotary Press gauge on the Sonic Imagery Labs Precision U.S. Specialty Multi-Gauge.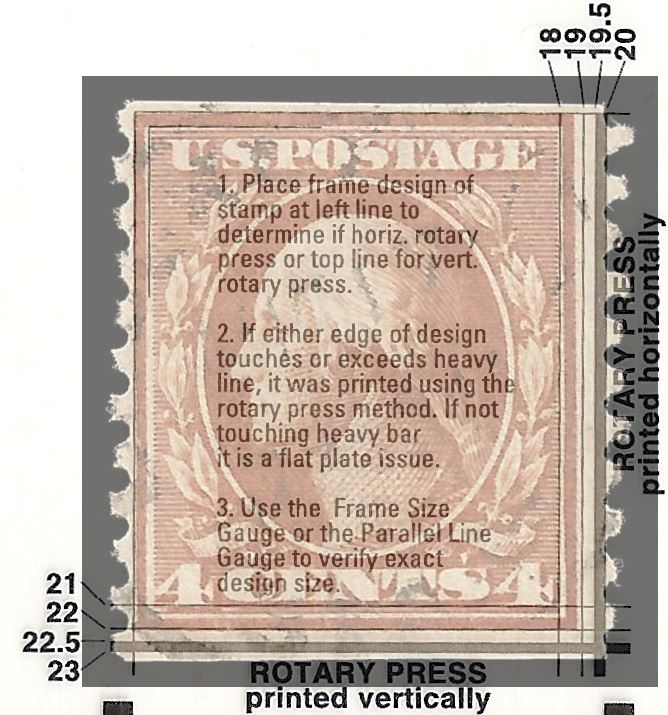 The watermark needs to be checked to make sure it is single line and not the unwatermaked #465 fully perforated issue that has been trimmed down. There appears to part of a watermark in the lower left corner but there is no indication of any other watermarks in the other corners. On cloer examination I believe that what looks like a watermark in the lower left corner is really the cancel from the front showing through. In my opinion the suspect is not watermarked.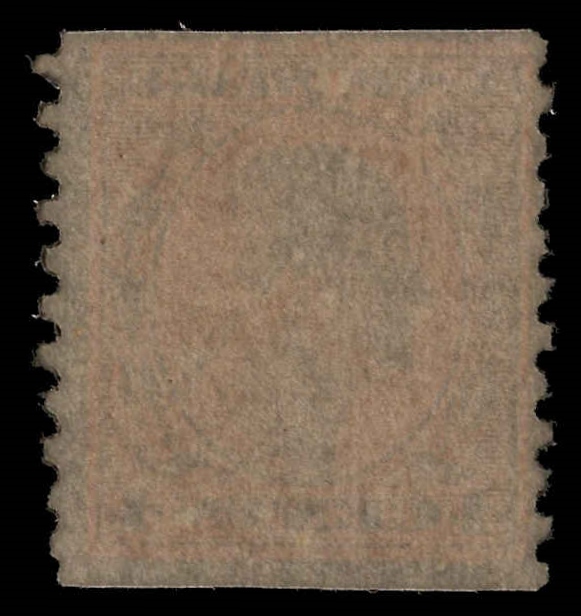 Examination of the back side of the suspect shows what appears to be faint pencil marks near the bottom edge that appears to be a "4" an unintelligible number and a "5". Looking at the enhanced image the middle number looks like a "9" – the Scott #495 is a vertical perf 10 horizontal rotary press coil issued on unwatermarked paper.
The suspect is short with the left height being 23.875mm and the right being 23.625mm which is significantly shorter than the ideal 25mm tall.
Since there is no single line watermarked imperforate stock to fabricate this coil from it can be safely assumed that the perforations are correct and don't need to be checked.
The top and bottom edges are rough and wavy and are not parallel with each other.
Conclusion: In my opinion the suspect is a Scott #465 with the top and bottom perforations trimmed away.
Reference material used:
The Expert's Book. A practical guide to the authentication of United States stamps. By Paul W. Schmid.
As always comments and suggestions are always welcome.
---
To Contact Riverside Stamps:
Email:
Mike Girard - Owner / Operator / Web Master: g1rardmn1099@comcast.net
---
I am a member of the American Philatelic Society

Member of:

APS #: 205494
Visit the American Philatelic Society
Website at www.stamps.org

I am a member of the United States Stamp Society




USSS #:

16733


Visit the United States Stamp Society
Website at www.usstamps.org

I am a member of the Internet Philatelic Dealers Association


IPDA #: 231
Visit the Internet Philatelic Dealers Association
Website at http://ipdastamp.org
---