Suspect Scott #447, Used Single.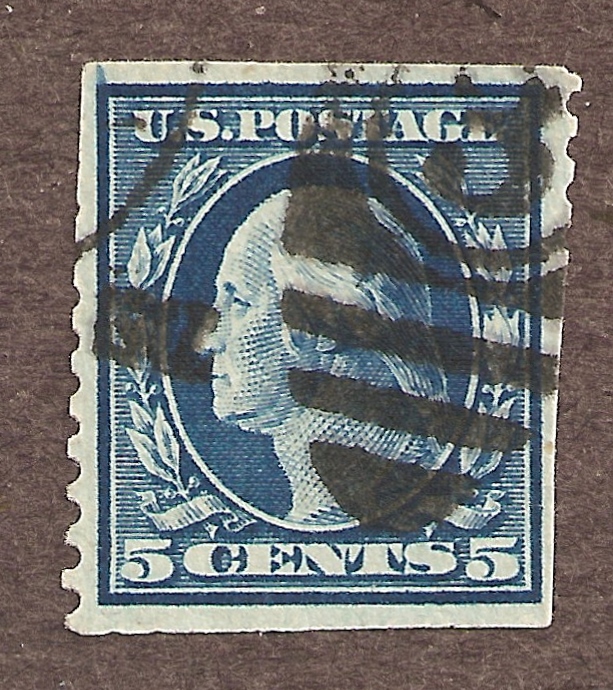 This stamp was part of a larger collection of larger collection of Washington/Franklins I bought at auction in January of 2014. This is a moderately priced stamp with a catalogue value of $150 for a used single. According to The Experts Book "Ordinary pairs of this coil are rarely faked, the unused value multiplier being only 1 1/2 x." This coil can only be faked by trimming the perforations from the top and bottom of a Scott #428.
Due to the heavy duplex cancel a watermark could not be positively identified on the suspect.
Because there is no impeforate flat plate single line watermark stock to which perforations can be added the perforations must be genuine and the straight edges need only be examined.
It can also be noted that the side perforations are clipped but more importantly there appears to be perforations remains on the left side of the bottom edge.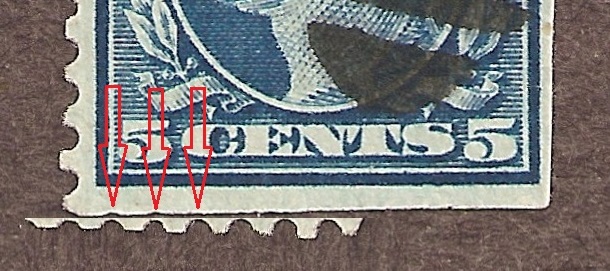 Conclusion: in my opinion this is a #428 with perforations trimmed from the top and bottom.
Reference material used:
The Expert's Book. A practical guide to the authentication of United States stamps. By Paul W. Schmid.
As always comments and suggestions are always welcome.
---
To Contact Riverside Stamps:
Email:
Mike Girard - Owner / Operator / Web Master: g1rardmn1099@comcast.net
---
I am a member of the American Philatelic Society

Member of:

APS #: 205494
Visit the American Philatelic Society
Website at www.stamps.org

I am a member of the United States Stamp Society




USSS #:

16733


Visit the United States Stamp Society
Website at www.usstamps.org

I am a member of the Internet Philatelic Dealers Association


IPDA #: 231
Visit the Internet Philatelic Dealers Association
Website at http://ipdastamp.org
---