Suspect Scott #459.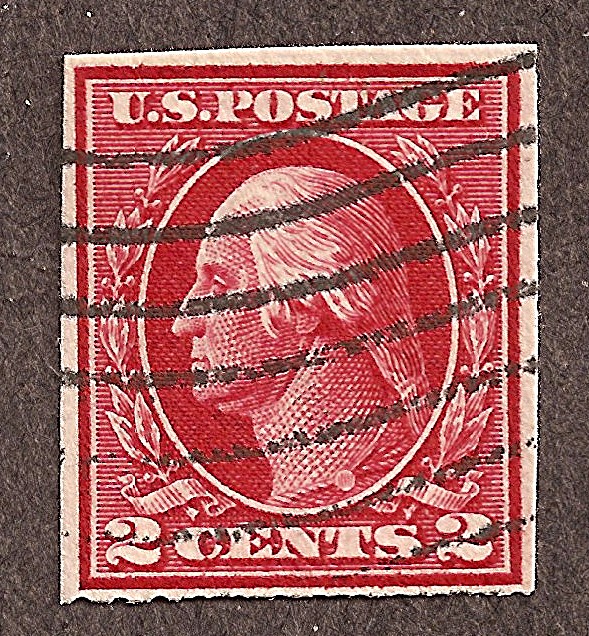 This stamp was not marked or labeled so the only imperforate stamps it could be is #409, #459, #482 or #532. The stamp is not offset printed so that eliminates the #532. Of the three remaining candidates only the #459 is very expensive with a catalogue value of $1300 used and $200 unused and is rarely faked according to The Experts Book and fakes will always be singles.
The first thing is the fact that perf pits are obviously visible on the bottom edge so I can say with certainty that this is a trimmed stamp but which is the question. Using my Sonic Imagery Labs U.S. Specialty Multi-Gauge I can tell that the stamp design is 19mm wide and 22.25mm tall which makes it a flat plate printing. The width of a #459 is between 19.5mm and 20mm. Even if the perforation remains were not visible at the bottom edge the narrow width would completely eliminate the possibility of the suspect being a #459.
the perforations that still show on the bottom edge gauge out to 12-66 and the suspect has a single line watermark. Since there are no perf 12 horizontal coils the only stamp the suspect could be is a #406.
In conclusion: This is a case of feeble attempt to fake a very expensive #459 by trimming a #406 that would have fooled no one.
Reference material used:
The Expert's Book. A practical guide to the authentication of United States stamps. By Paul W. Schmid.
How to Detect Damaged, Altered and Repaired Stamps. By Paul Schmid
As always comments and suggestions are always welcome.