Suspect Scott #541.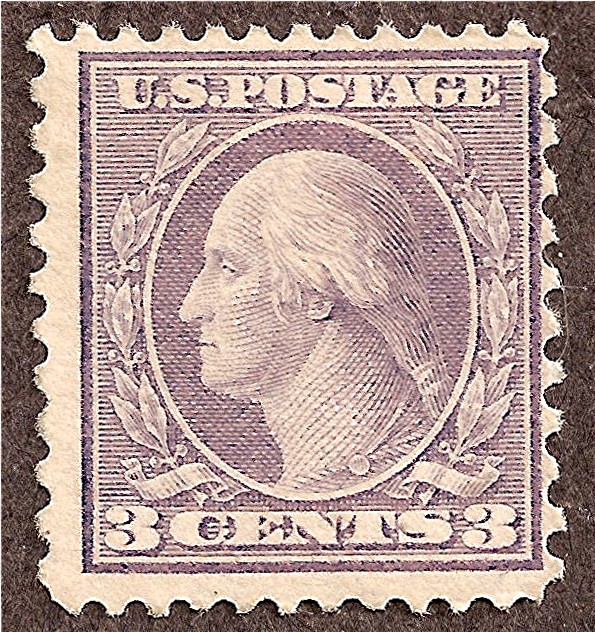 This is a suspect Scott #541, Perf 11 X 10, Type II , HH and disturbed gum with a catalog value of $45.00. The Experts Book states that this stamp is sometimes faked by adding perfs to a Scott #494.
Luckily for me I have a certified genuine copy of a #541 to compare the suspect with. There are three things that I'll be looking for on this stamp:
The horizontal perforations.

The spacing between the horizontal rows of perfs.

The design dimensions.
Let's look at the perforations. Since I have a known good #541 I can compare the horizontal perfs between the two stamps. The images below show the suspect stamp above the genuine #541. As can be seen below the perforations of the suspect line up very well with the known good example.
| | |
| --- | --- |
| | |
| | |
Next I measured the spacing between the horizontal rows of perforations. The Experts Book states that the spacing usually is 24mm or more but does not state where to measure from so I measured from the bottom of the top perfs to the top of the bottom perfs. For the genuine stamp I measured 23 1/4 mm and the suspect measured 23 3/4 mm. This measurement bodes well for the suspect.
The design dimensions should be 19.5 to 20 mm by 22.0 to 22.4 mm and the suspect stamp is 19.5 mm by 22.25 mm, another good sign. another good sign is the fact that the centering is not good with the right side barely touching the perfs. The Experts Book hints that well centered genuine examples of the #541 are hard to come by and command a premium while fakes made from the #494 tend to be well centered.
In conclusion I am satisfied that the suspect stamp is indeed a genuine Scott #541. I may not send this stamp in to be verified only because of the poor shape of the gum, I can't say for sure how it happened but there is only about 50% original gum left and I'd have a hard time making the expertizing fee back.
Reference material used:
The Expert's Book. A practical guide to the authentication of United States stamps. By Paul W. Schmid.
How to Detect Damaged, Altered and Repaired Stamps. By Paul Schmid
As always comments and suggestions are always welcome.