Suspect Scott #141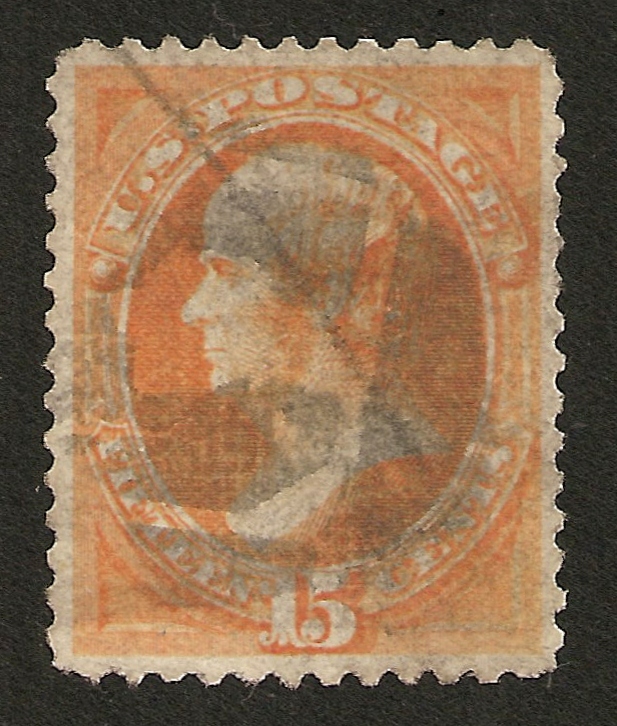 I bought this stamp on EBay for $12.00 as a suspect fake with the goal of getting it off of the market and doing a proper analysis on it. The Scott #141 is a very expensive stamp if real with a catalogue value of $1400 used and I have no doubt that it is faked on occasion because I own a fake #140. I took a look at all of the #141 submitted to the Philatelic Foundation for examination and there are 2 certified counterfeits out of 534 patients, a 0.4% fallout rate.
First thing to look at is the paper the suspect is printed on, it should be hard, white wove paper. After examining the paper and comparing the suspect to known hard and soft porous papered reference stamps I can safely say that the suspect is printer on hard, white wove paper which eliminates the possibility of the suspect being a #189 with a counterfeit grill. Next comes the grill, it is not complete and fades away at the edges. The structure is grid like with evenly spaced square impressions. Below is a picture of the back of the suspect and a second that has been enhanced to bring out more detail in the grid.
| | |
| --- | --- |
| | |
The enhancement helped a little bit, it makes it easier to count the number of points. The number of points I count is 12 columns and 15 rows, points down on the face which matches the "H" Grill pattern. The following images show the "H" Grid over laid on top of the suspect's grid. This will check to see if the spacing is regular or not.
| | |
| --- | --- |
| | As can be seen here the columns line up very well with the over laid "H" Grid |
| | Same goes for the alignment of the rows. Another added benefit of overlaying the grid pattern is that it makes it a little easier to see and count the points. |
In conclusion I believe that the suspect is indeed a genuine #141 and I'll be sending the suspect into the A.P.S. to be certified.
Reference material used: Sonic Imagery Labs Precision U.S. Specialty Multi-Gauge.
As always comments and suggestions are always welcome.
---
To Contact Riverside Stamps:
Email:
Mike Girard - Owner / Operator / Web Master: g1rardmn1099@comcast.net
---
I am a member of the American Philatelic Society

Member of:

APS #: 205494
Visit the American Philatelic Society
Website at www.stamps.org

I am a member of the United States Stamp Society




USSS #:

16733


Visit the United States Stamp Society
Website at www.usstamps.org

I am a member of the Internet Philatelic Dealers Association


IPDA #: 231
Visit the Internet Philatelic Dealers Association
Website at http://ipdastamp.org
---