Suspect Scott #352.
I just got back the opinion back from the A.P.S. and to my complete surprise I was completely wrong, I said this was a genuine #352. This must be a really good fake, the only thing I can see where I went wrong was not comparing the perforations directly with a perf gauge or with a known genuine stamp with perf 12.

Live and learn I guess.
If real this is a modestly expensive stamp with a Scott Catalogue value of $190.00 used. The Experts Book states that the #352 is often faked by adding perforations at left & right and trimming top & bottom a Scott #343, adding perforations at left & right to a Scott #343S or trimming perforations off at the top & bottom of a Scott #331.
A check of the watermark reveals a reversed double line mark that reads horizontal. The horizontal watermark eliminates the possibility of the suspect stamp being a #331a booklet pane single. The image below is a photo of the watermark taken with my Safe Signoscope watermark detector. The double line "S" can be seen in the lower left corner.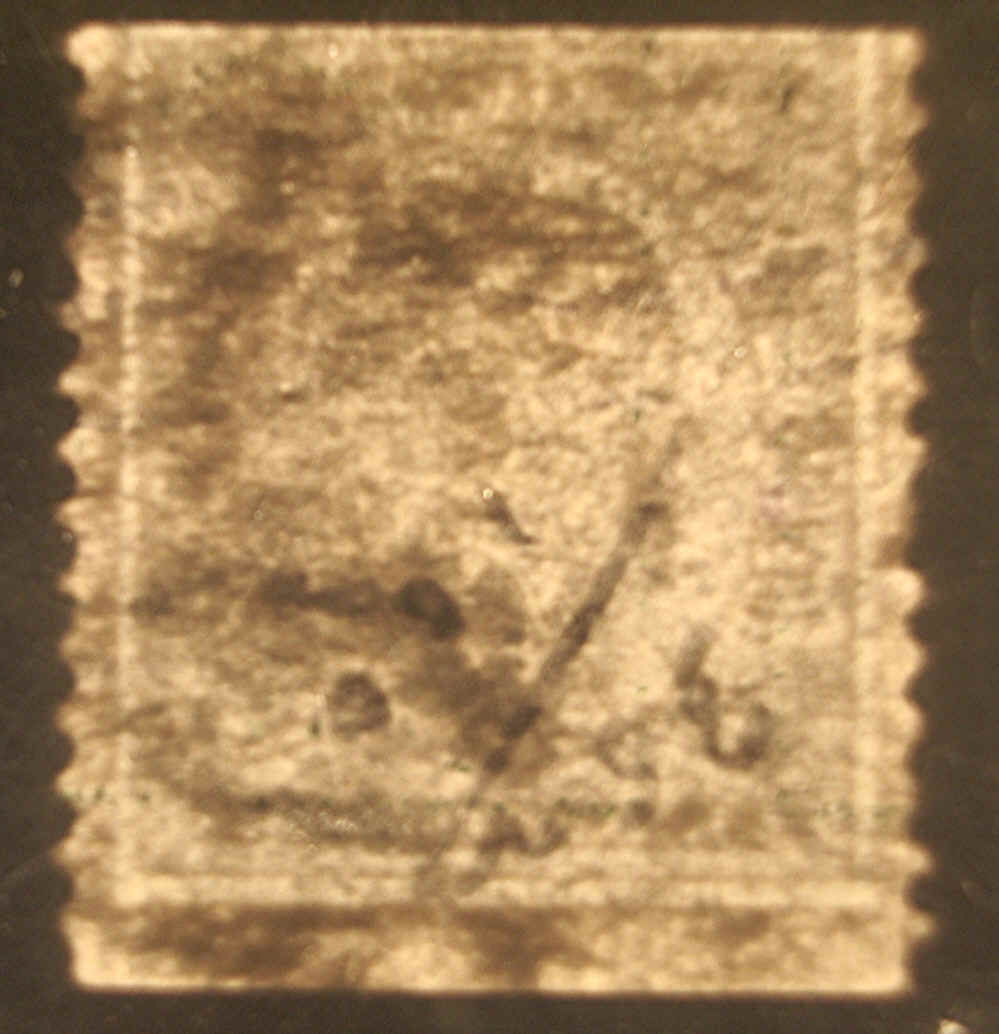 The height of the suspect is 24mm, 1mm less than the ideal height of 25mm. According to The Experts Book height is not a determining value for the #352.
Now for the perforations. I did a flip comparison of the perforations and they line up very well - see image below.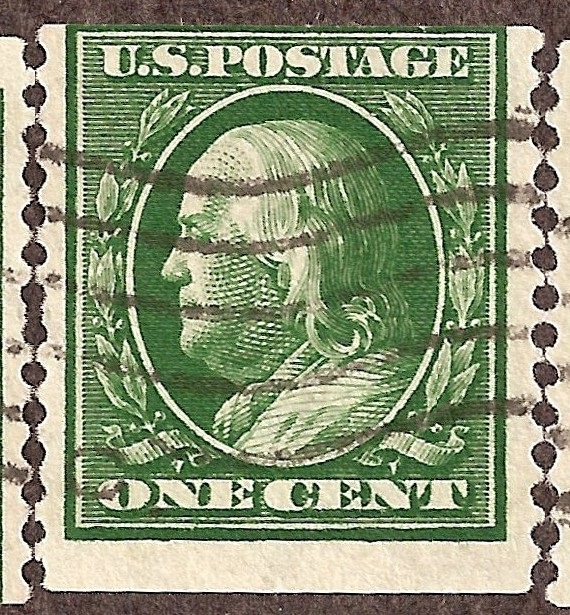 I also took a look at the cancels and how they look when they cross a perforation and in all cases the cancel ink goes all the way to the edge of the perforations - see the images below. All this together tells me that the perforations are most likely genuine.
The cut edges are next, I've looked both edges over very carefully and can find no evidence of them being trimmed down, there are no indications of perf pits of any kind.
In conclusion: I'm going to go out on a limb and say that the suspect stamp is in fact a genuine Scott #352. I'll be sending this stamp out for expertizing with the A.P.S. in the next day or two.
Reference material used:
The Expert's Book. A practical guide to the authentication of United States stamps. By Paul W. Schmid.
How to Detect Damaged, Altered and Repaired Stamps. By Paul Schmid
As always comments and suggestions are always welcome.
---
To Contact Riverside Stamps:
Email:
Mike Girard - Owner / Operator / Web Master: g1rardmn1099@comcast.net
---
I am a member of the American Philatelic Society

Member of:

APS #: 205494
Visit the American Philatelic Society
Website at www.stamps.org

I am a member of the United States Stamp Society




USSS #:

16733


Visit the United States Stamp Society
Website at www.usstamps.org

I am a member of the Internet Philatelic Dealers Association


IPDA #: 231
Visit the Internet Philatelic Dealers Association
Website at http://ipdastamp.org
---