I have been keeping an eye out for such fakes to record on this page in hopes of educating the buying public about what can be found on eBay and how to recognize fake RF overprints. I have only added a listing after it has closed or sold and have blackened out the name of the lister. I have not done this web page to tarnish the reputations of any seller who happens to put fake RF overprints up for sale but I have decided to no longer activily search eBay for such fakes and will no longer publish such listings going forward (12/25/17).
As I've stated before, all of the literature Iíve read says that any unused or used Scott #C25, #UC3, #UC4, #UC6 cut square cannot be considered genuine and are most likely a fakes or favor strikes made for sale to the stamp collecting world. Even if the overprint closely resembles or exactly matches known genuine overprints there is no positive way to verify that it came off a cover with all of the other characteristics that make a genuine cover.
Suffice to say there are a lot of fake RF overprints on eBay and for that reason I will not be posting any more of the fake overprint singles or blocks of the #C25. I will keep looking for fake covers, fake overprints on #UC3, #UC4 and #UC5 postal stationary covers as well as full sheets of #C25 and #C25a booklet panes and singles.
---

---

Sold the second time it was listed.
---

---

Did not sell the first time around.
---

---

---

---

---

---

---

---

---

---

---

---

---

---

---

---

This was an interesting listing because of the advertisments that were part of the lot: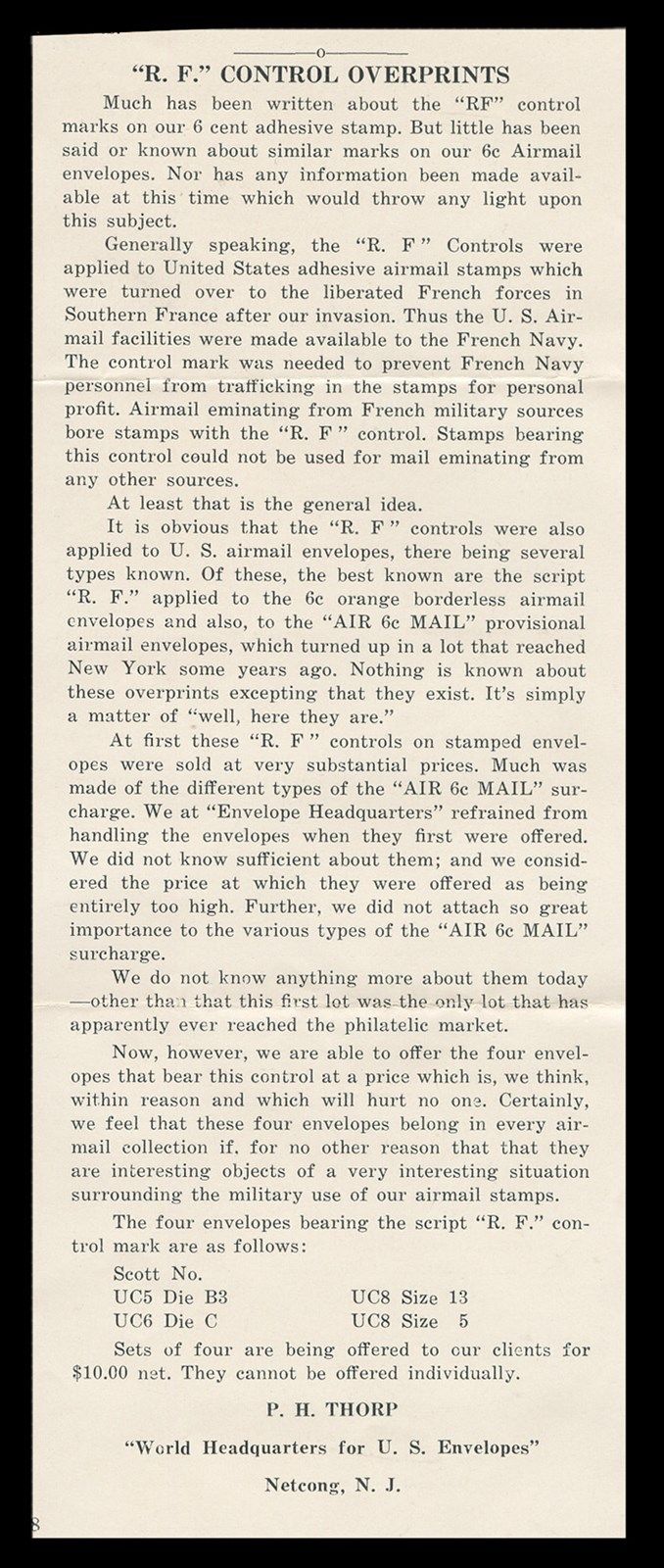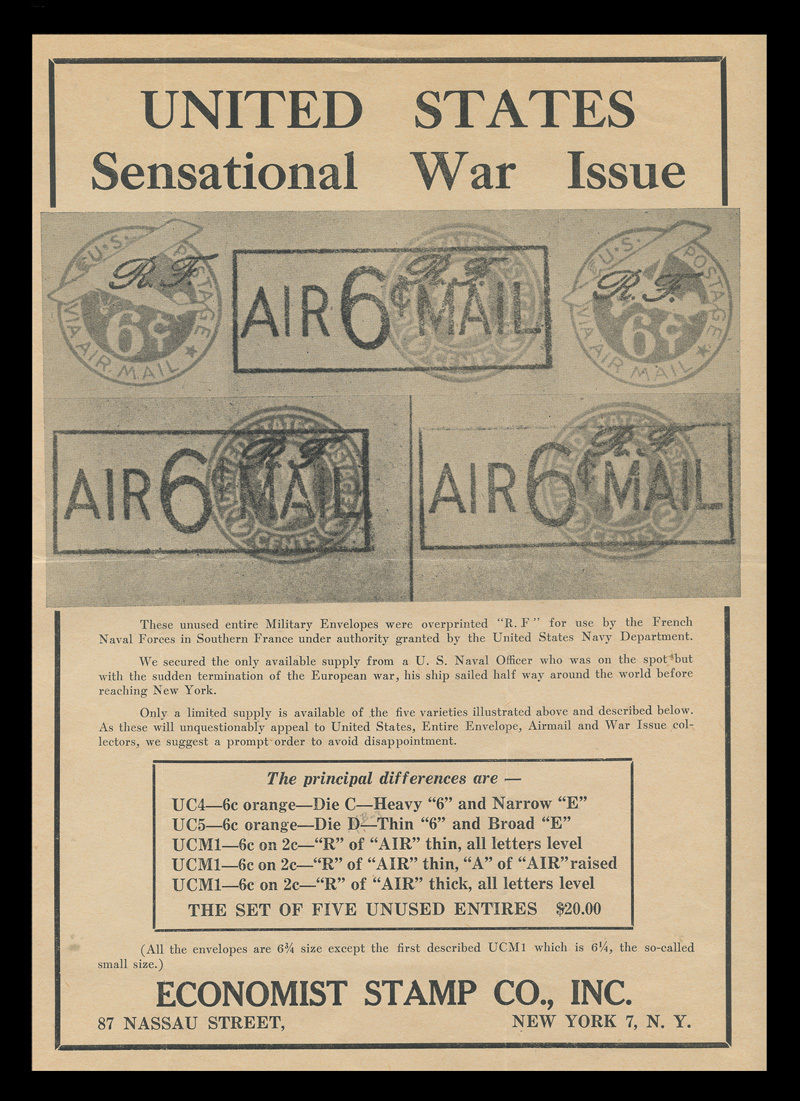 Here are the other three covers that were offered with the lot: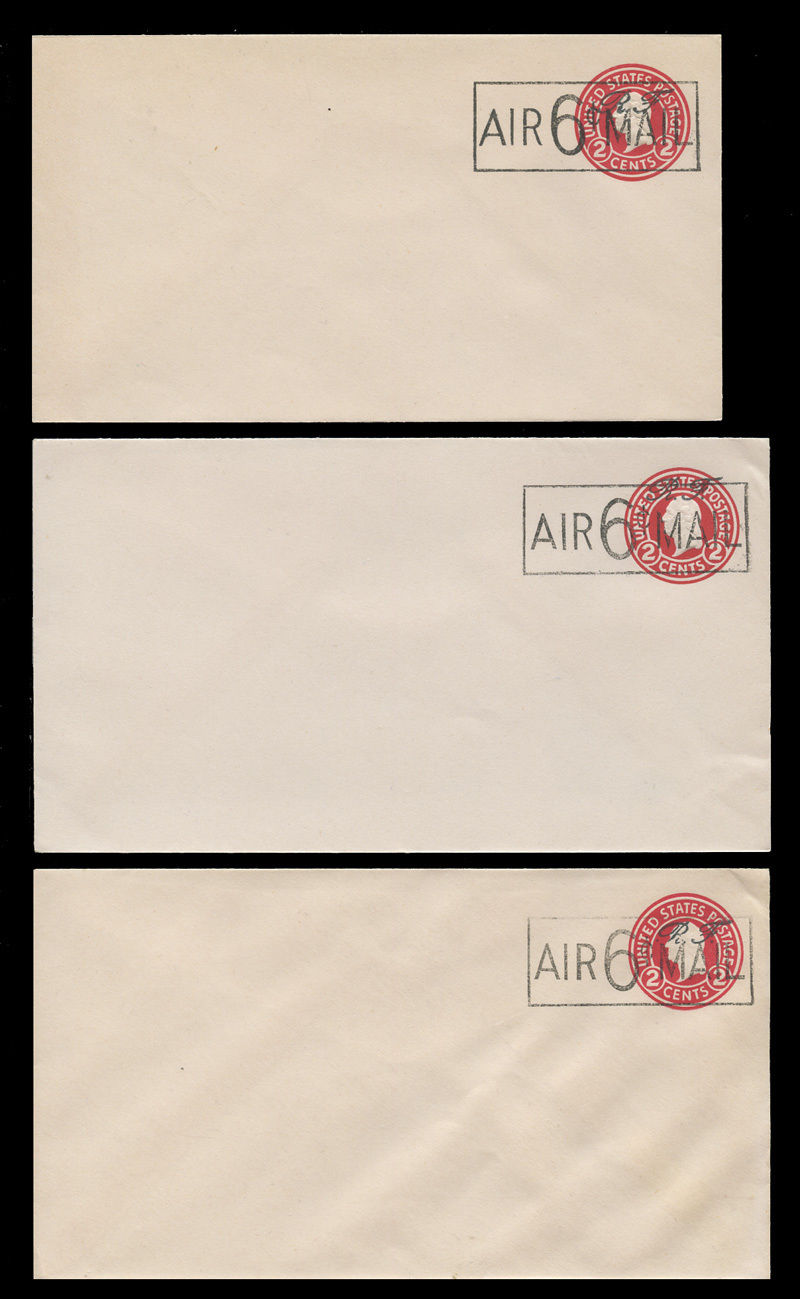 ---

---

---
---

---

---


---

First time I've seen a full sheet with the manuscript overprint, shows that this type of fake overprint was mass produced. Not done by machine but with a hand stamp - note the varying placement position and intensity of the black ink.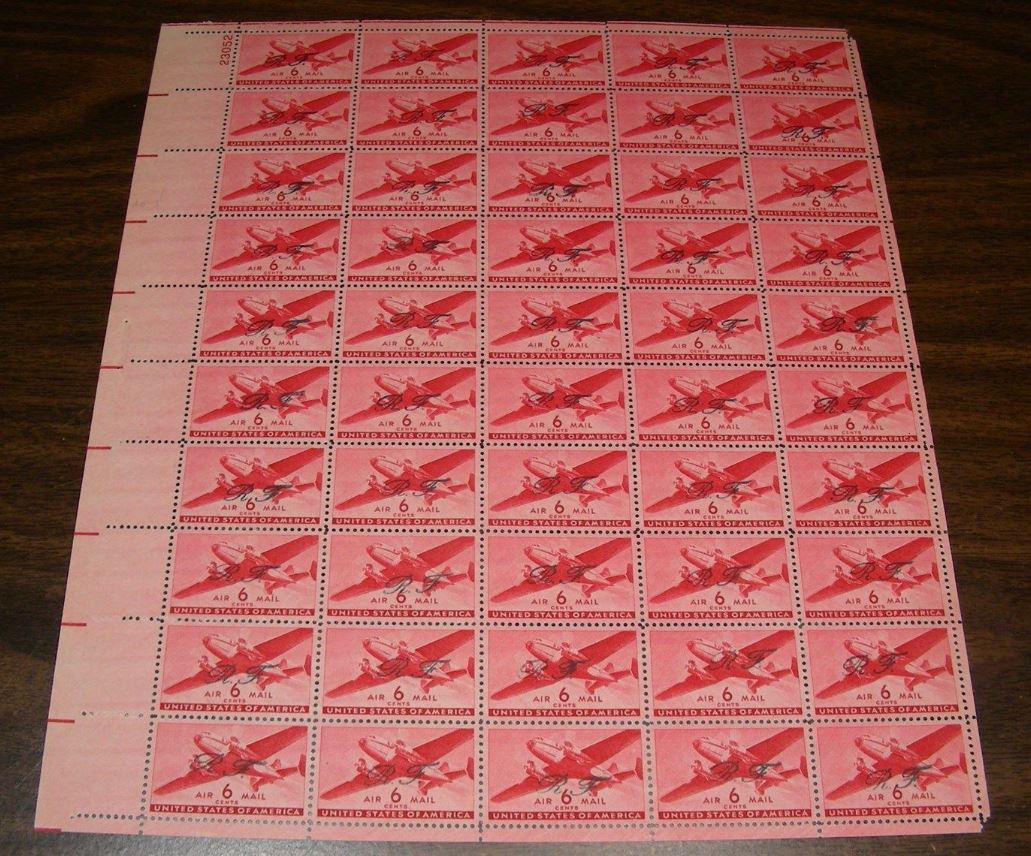 ---

Overprint does not match genuine -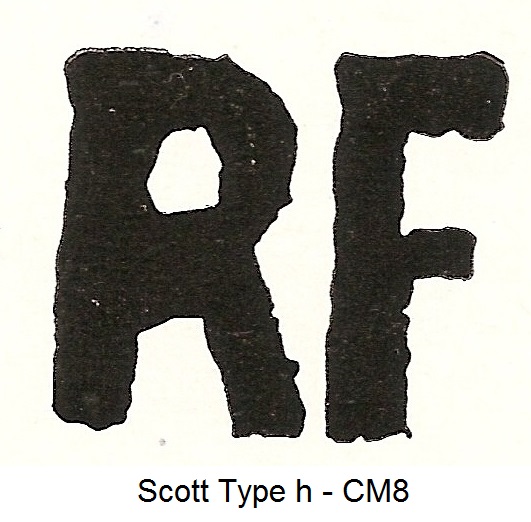 The Dec 26, 45 date on the cancel is well after V-E Day when the RF overprint was no longer needed, my guess is this cover is a genuine usage of the #C25 with a fake overprint applied.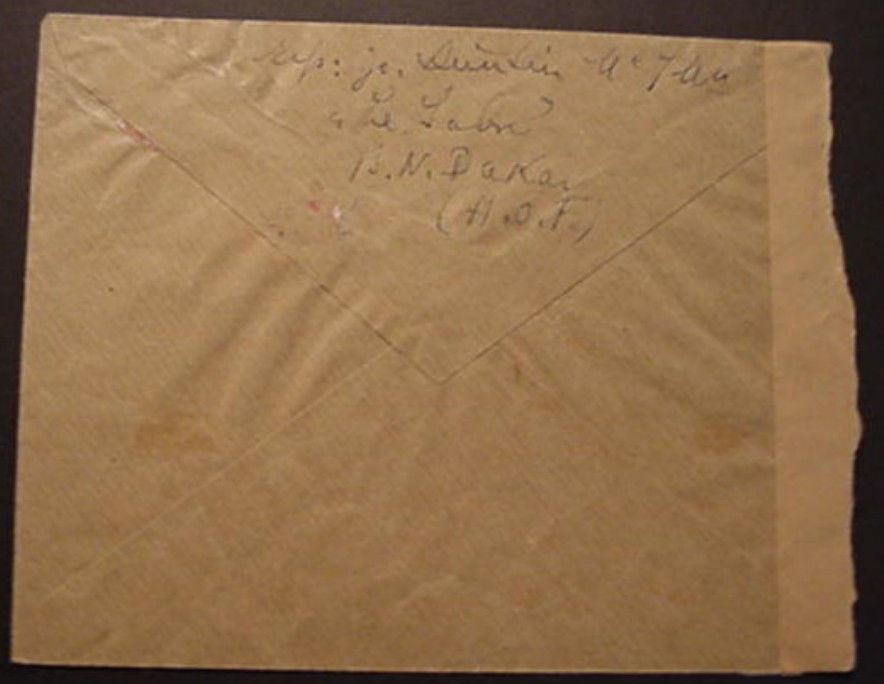 ---

---

---


---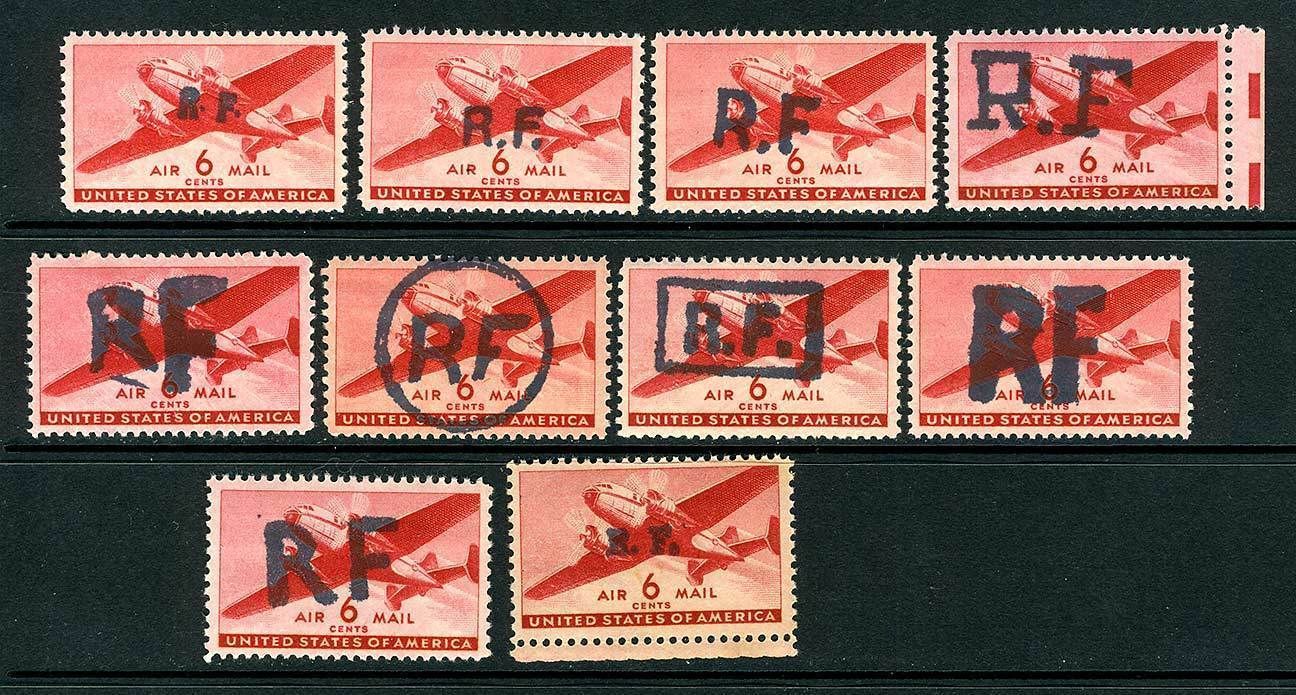 ---

---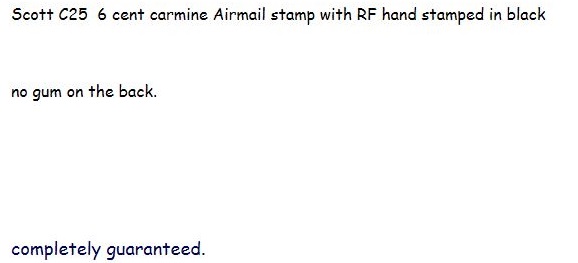 ---
This example is a block of four with two of the stamps having a double overprint:::
As can be seen the overprint closely resembles the Scott #CM2:


I missed bidding on the original listing so I contacted the seller and asked if they were going to relist the lot because I was interested in it. The seller did relist the lot but unfortunately someone else wanted the block more than I did.

---
This example is from a November of 2014 listing that sold for $9.99


The overprint appears to be a Goodkind Type 3 (Scott Type CM2) inverted on a Scott #C25 MNH single. A comparison of the offered overprint with a tracing of a genuine Type 3 reveals significant differences - the offered overprint is too neat and clean whereas the genuine is rougher in shape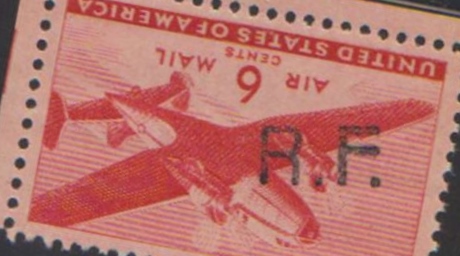 ---
This example is a collection of ten #C25 singles, a plate number pair and a cover all with fake RF overprints - the cover also has two French Poste Navale favor cancels dated March 28, 1944. The lot was first put up for sale in October of 2014 and was immediately relisted unchanged when it failed to sell. It's no surprise that the lot failed to sell the second time around.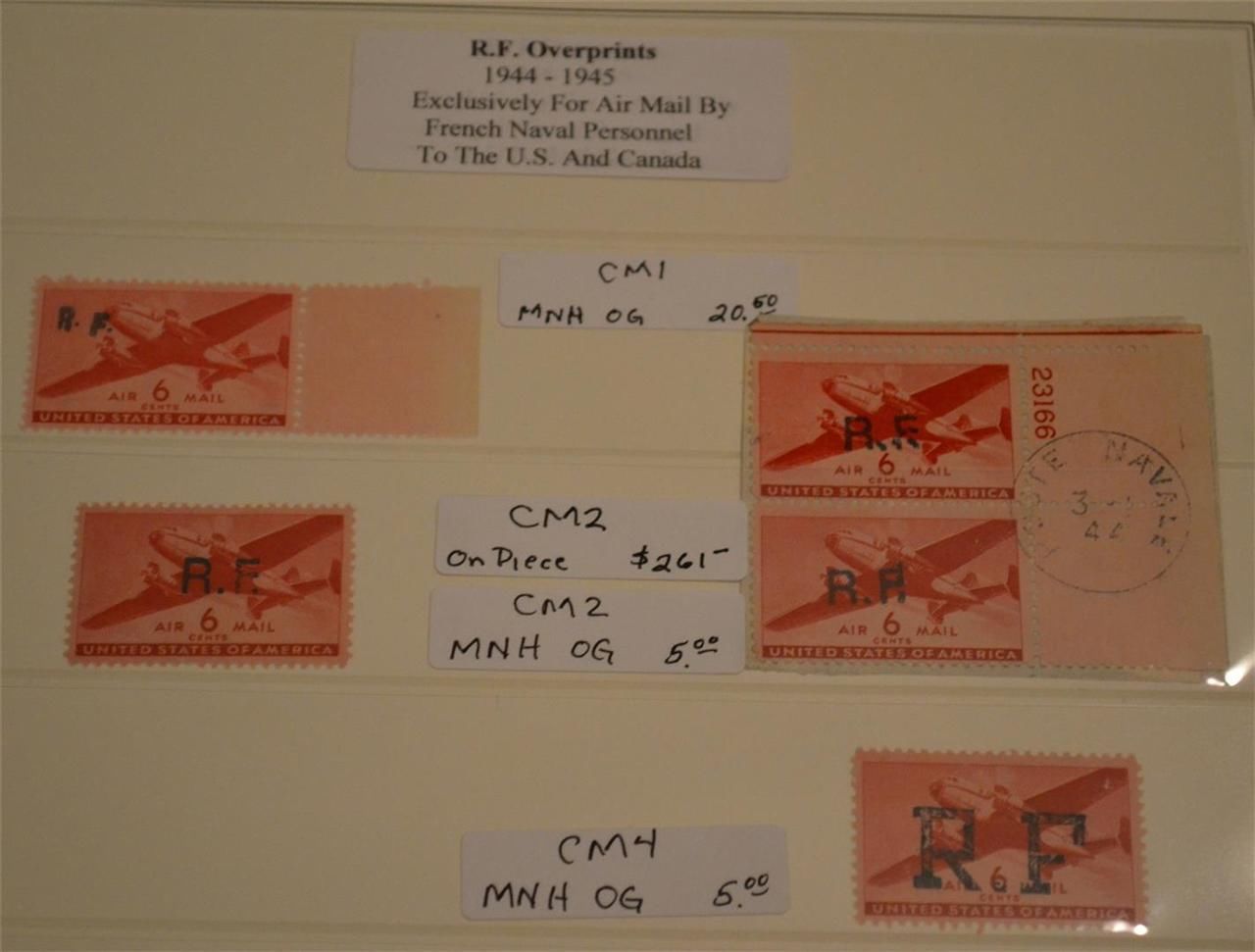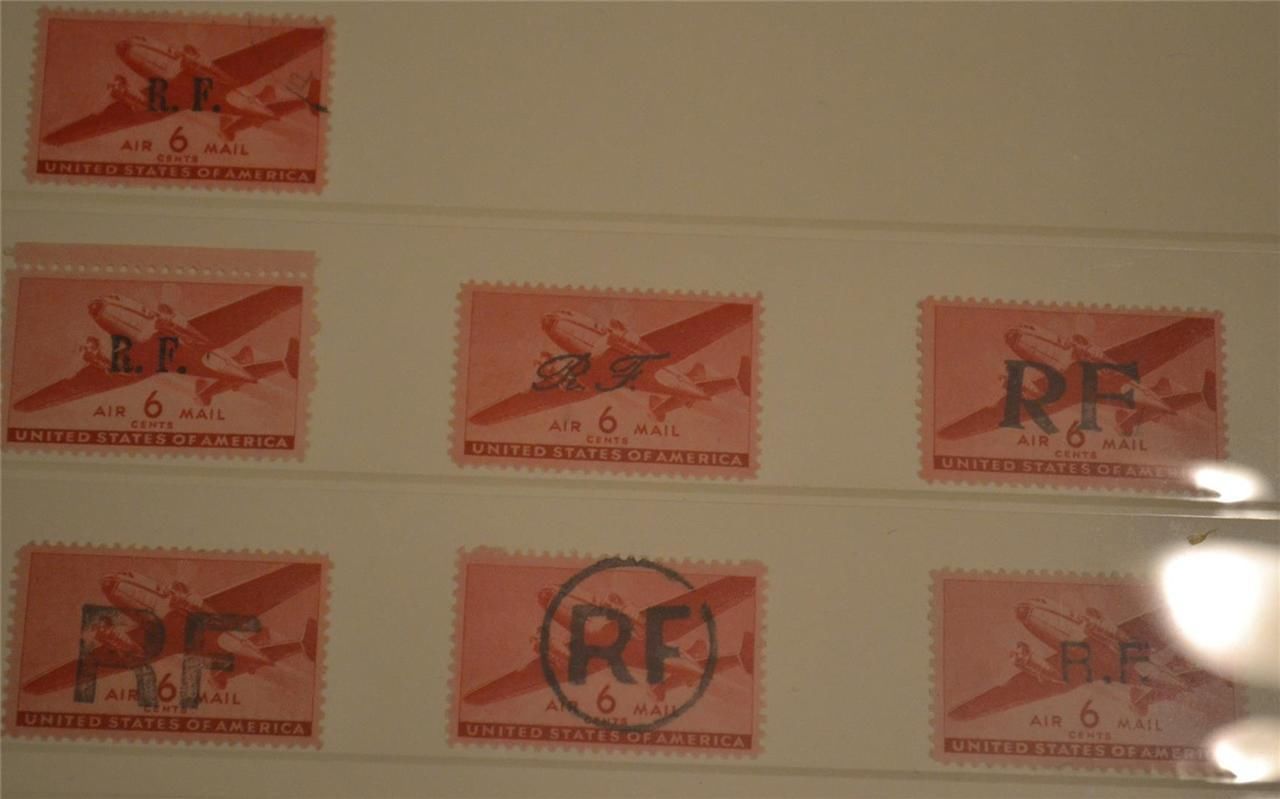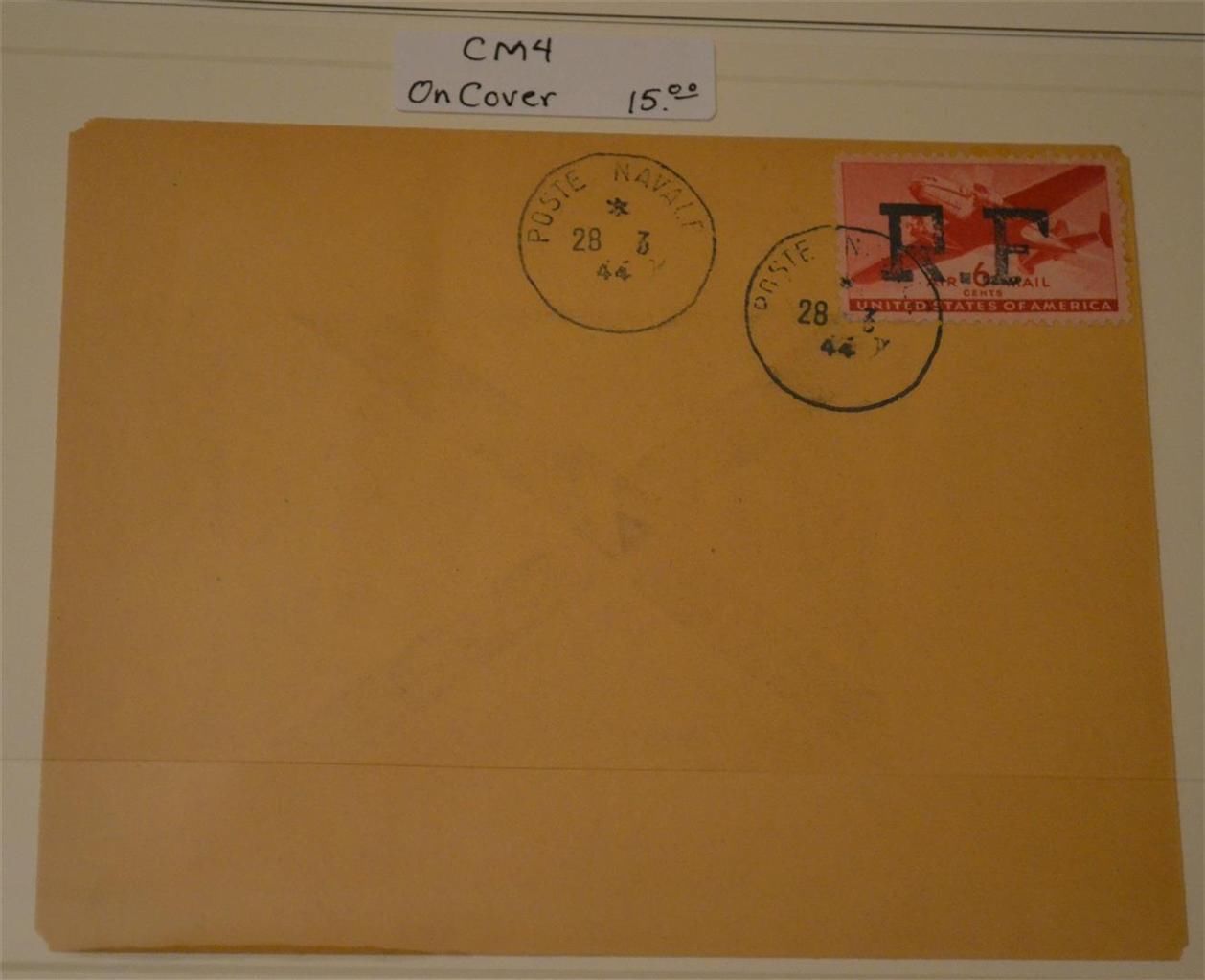 The sellers description is fairly complete but unfortunately gives an impression that some of the overprints are genuine - "Authentic or Forgery?", "Some of these are certainly forgeries, others ???". A novice collector may get the wrong impression from this listing and spend way to much acquiring the collection. As far as I can tell this lot has not been relisted a third time. Update: this lot was relisted again sometime on November 28, 2014 with a starting bid of $275.85
---
This example was also listed in September of 2014, can't remember if it sold or not. The list shows a #C25 and #C25a with a manuscript RF overprint that is known to be fake.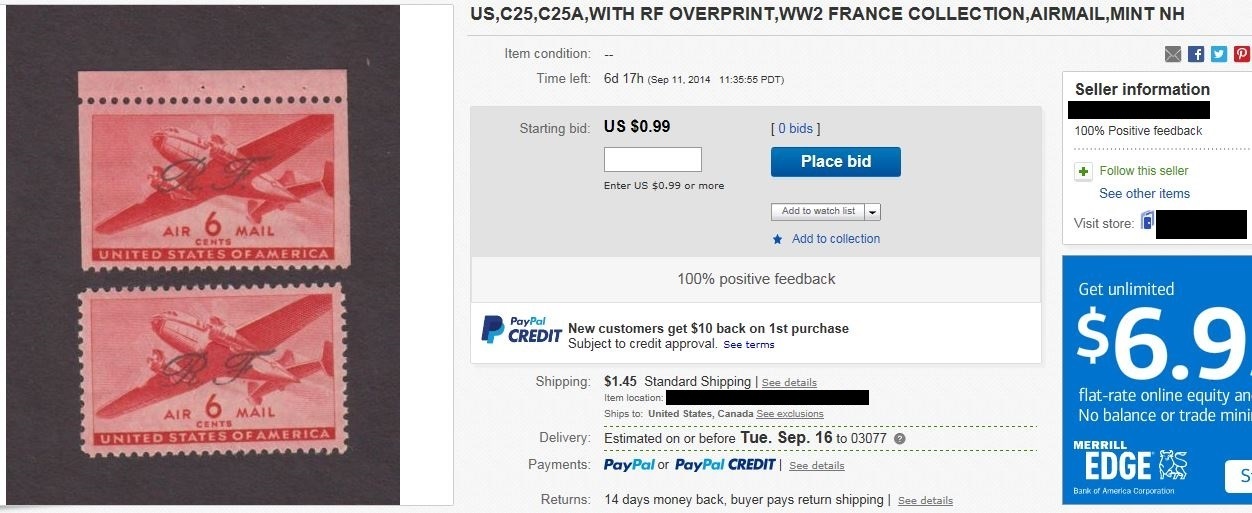 ---
This example was listed in July of 2014 and did not sell, it was relisted again in September of 2014 and if my memory is correct it did not sell the second time around either. The listings claim that the overprint is a Type CM6 but it is nowhere near being a correct Type CM6 overprint, see example below.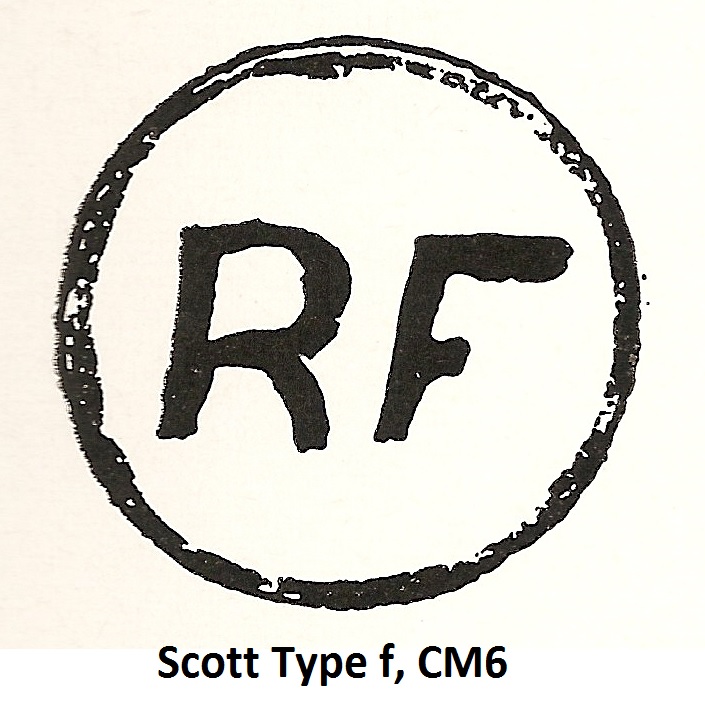 ---
---
To Contact Riverside Stamps:
Email:
Mike Girard - Owner / Operator / Web Master: g1rardmn1099@comcast.net
---
I am a member of the American Philatelic Society

Member of:

APS #: 205494
Visit the American Philatelic Society
Website at www.stamps.org

I am a member of the United States Stamp Society




USSS #:

16733


Visit the United States Stamp Society
Website at www.usstamps.org

I am a member of the Internet Philatelic Dealers Association


IPDA #: 231
Visit the Internet Philatelic Dealers Association
Website at http://ipdastamp.org
---