An analysis of a genuine RF overprint cover.
On March 15, 2014 I had the good fortune of purchasing a genuine RF overprint on eBay. It was the first time I had ever seen such a cover offered for sale on eBay.
When I found the cover there were a few days left in the listing so I started doing research on the cover to see if it really could be genuine or not. As can be seen from the scans below the cover has all of the required markings and such to considered genuine.
A UC6 imprinted "R F" at the time of mailing.
Censored by the French and has the correct seal and markings.
Is canceled by "Poste Navale" date stamp (Aug 28, 44) but does not bear a "Marine Francaise" anchor cachet. The "Marine Francaise" anchor cachet is an optional marking and if present would only add to the possibility of the cover being genuine.
The signature and rating of the sender is on the back flap of the cover and was mailed to a U.S. address between the generally accepted dates for genuine RF covers of March 13, 1944 and October, 1945.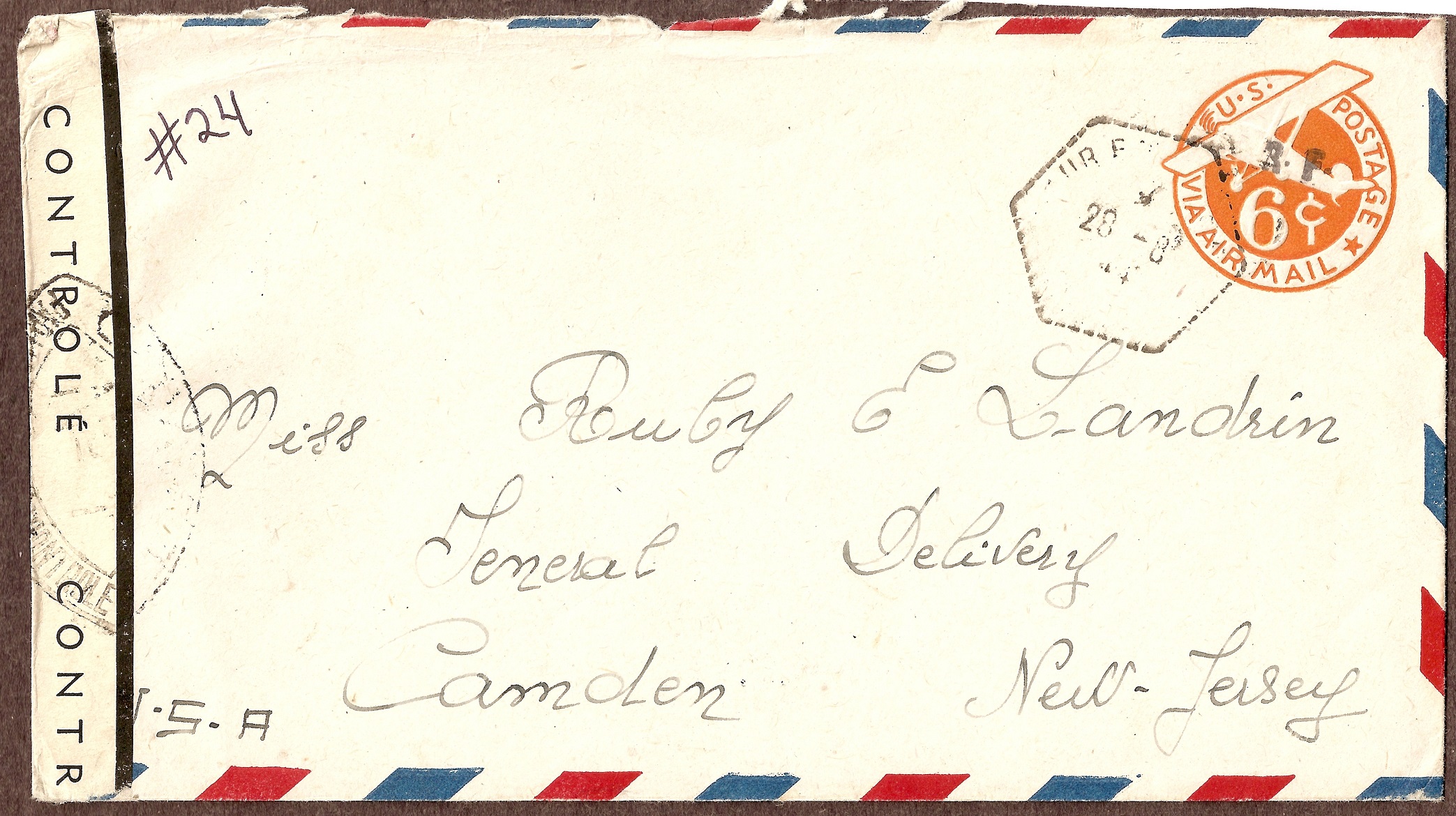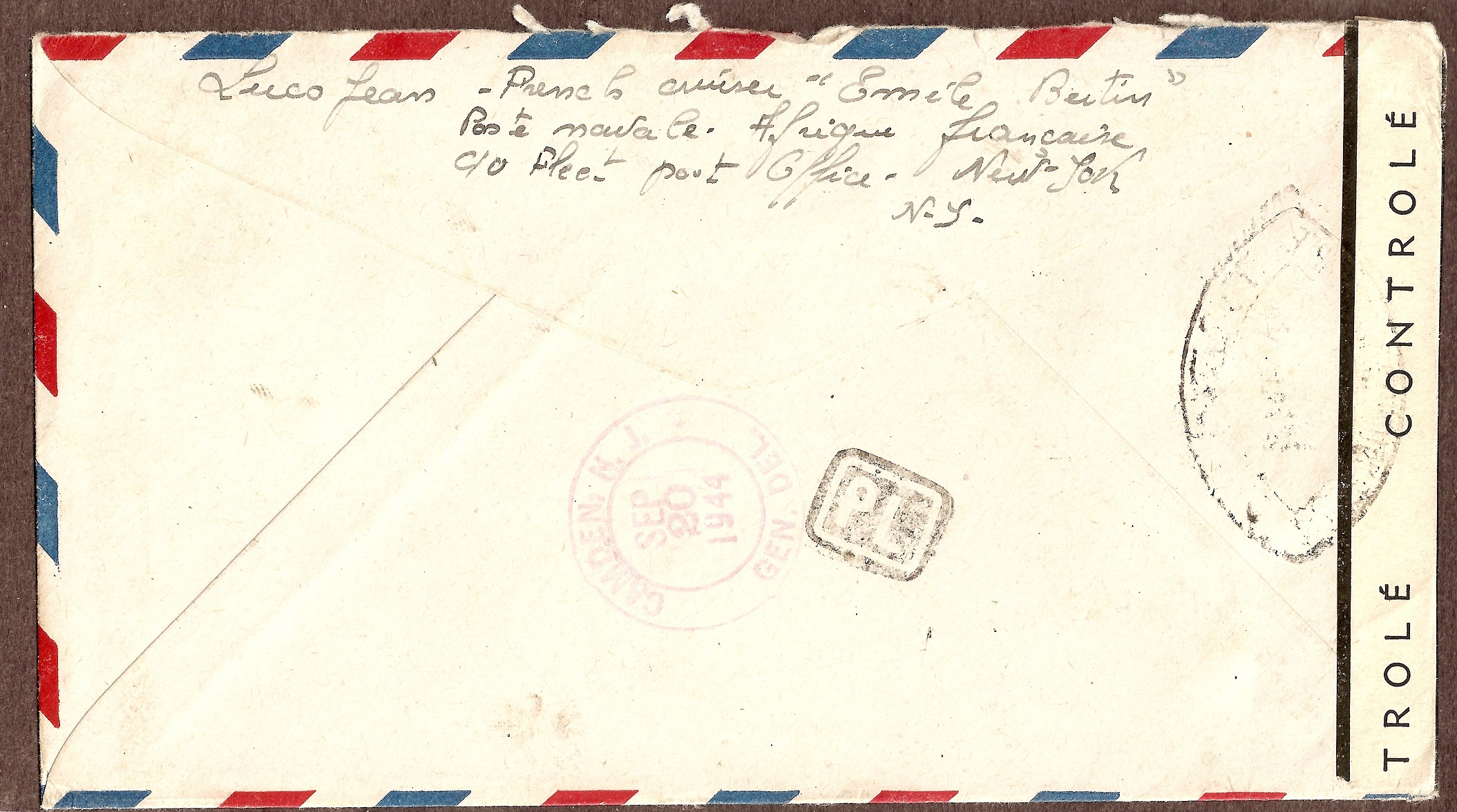 Things were looking good up to that point, the cover had all of the right bells and whistles to be considered a genuine cover. The next thing I did was look in the pamphlet written by Henry M. Goodkind - "United States RF Overprints on Air Mail Stamps and Stationary (1944-45)" to see if Mr. Goodkind had any information about the ship that the cover was sent from as well as the dates sent and types of RF overprint that were used on the ship. The senders return address on the back flap shows that the cover came from the French Cruiser Emile Bertin. On page 60 of Mr. Goodkinds pamphlet (Appendix A) he lists a census of all covers he knew about at the time of his writing the pamphlet. For the Cruiser Emile Bertin he lists three covers using the Type 2, 3 and 9 (Scott Type f, c and i) RF overprints with cancelation dates of Dec 12, 1944 through Mar 21, 1945. As can be seen from the above image the cover that was up for offer is postmarked Aug 28, 44 with a Type 1 (Scott Type a). At this point I became both excited and concerned because there were only two possibilities for this cover - one being that the cover being offered was a new find with the added bonus of being an earliest date known for the Cruiser Emile Bertin, on the other hand there was the very real possibility that the cover was a fake and a very good one at that.
I knew I had to have the cover so I made the seller an offer of $180 - the seller had listed the cover as a buy it now for $200 or best offer - the seller accepted my offer and within a week I had the cover in hand. At this point I made arrangements with the Philatelic Foundation to examine the cover for authenticity and about four weeks later the P.F. sent back a certificate with an opinion of genuine.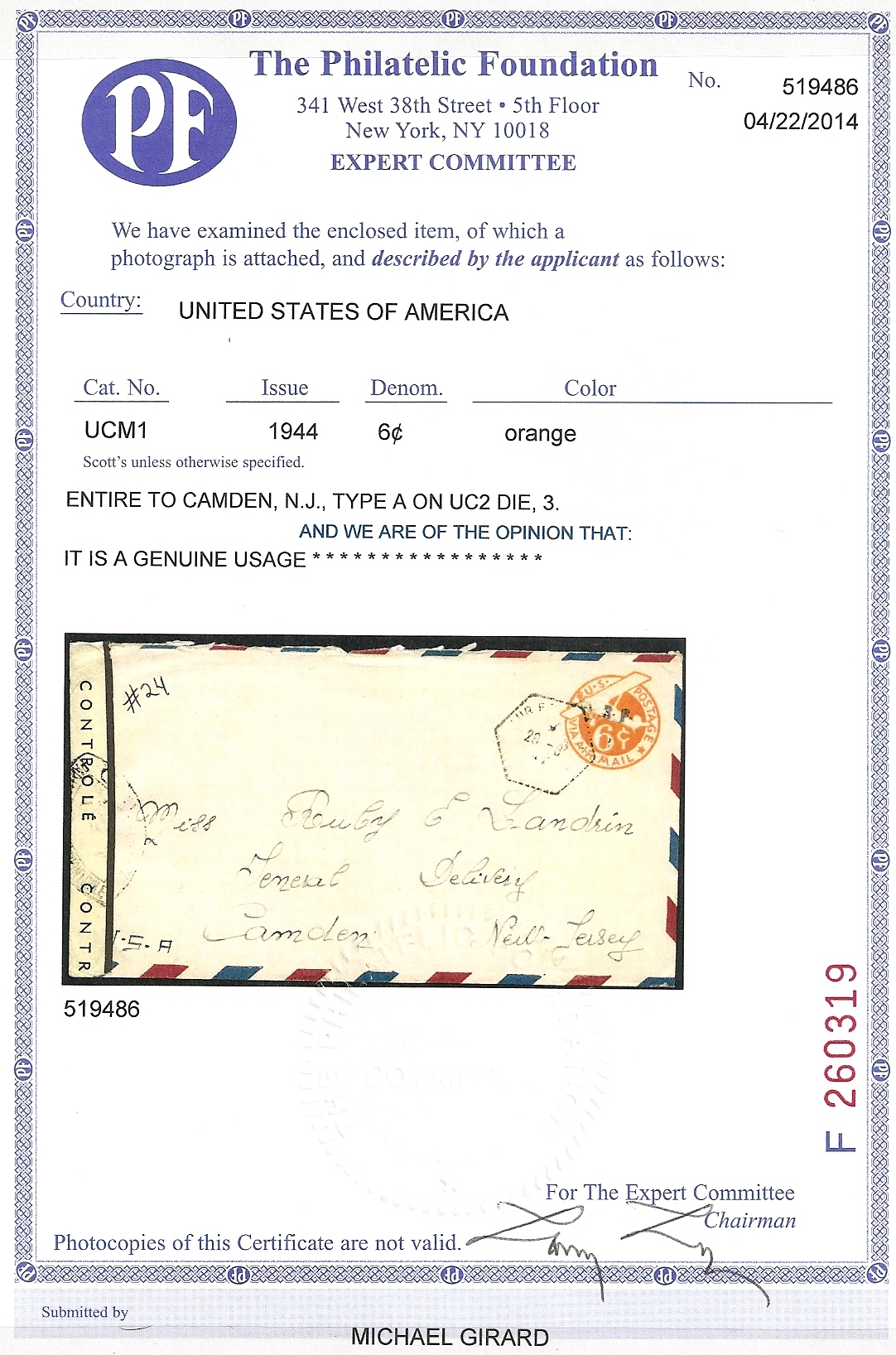 Now that I had the cover back with a certificate of authenticity I had a few questions to figure out:
Who was Miss Ruby E Landrin?
Was the French Cruiser Emile Bertin ever in a U.S. port that was in close proximity to Miss Ruby E Landrin?
Where was the Emile Bertin at the time of the covers mailing?
Who was Miss Ruby E Landrin? We may never know. I had a relative who has an account with an Ancestry.com account try to look her up but to no avail, she is not mentioned in the 1940 census and the 1950 census will not be available for research until 2020. The fact that the address is to "General Delivery Camden, NJ" says one of two things - 1) Miss Ruby E. Landrin was a temporary resident of Camden for some reason or 2) The sender had no idea of her exact address and only a general notion she lived in the general Camden NJ area.
Was the French Cruiser Emile Bertin ever in a U.S. port that was in close proximity to Miss Ruby E Landrin? The answer to that question is yes. After a few web searches I found that the Cruiser Emile Bertin had put into the Philadelphia Navel Shipyard between Aug and Dec of 1943 for modernization. This was more than enough time for the crew of the ship to make use of the navel yards hospitality services or even given liberty to go off base to bar hop, go to a dance or visit a friend. This ties in nicely with Camden NJ address on the cover because Camden NJ was just across the river from the Philadelphia Navel Shipyard. It is very possible that Miss Ruby E Landrin was either a worker at the navy yard, most likely as part of the hospitality service or she and the sender met up at a bar or dance on or off base.
Where was the Emile Bertin at the time of the covers mailing? The postmark on the cover is Aug 28, 44 which is four days after the liberation of Toulon France which marked the end of Operation Dragoon, the Allied invasion of southern France which began Aug 15, 44. I have doubts that the base at Toulon could get a post office working in four days after heavy fighting, on top of that Goodkind shows the first use of the Type 1 device in Toulon on Mar of 1945. So I'm speculating that the Emile Bertin could only have gotten a Type 1 device from a sister ship taking part in the invasion. According to Goodkind there were nine ships in the Free French navy that used the Type 1 device:
Battleship Richelieu - Type 1 device in use between Sept 28,44 and Mar 9, 45
Cruiser Gloire - Type 1 device in use between May 8, 44 and June 3, 45
La Toulonnaise - Type 1 device in use between July 19, 44 and Feb 5, 45
Destroyer Marocain - Type 1 device in use between July 3, 44 and Oct 21, 44
Cruiser Le Terrible - Type 1 device in use between July 4, 44 and Aug 18, 44
Despatch Boat Annamite - Type 1 device in use between Feb 3, 45 and April 10, 45
Escort Gavelot - Type 1 device in use between Dec 5, 44 and Jan 1, 45
Escort Gabier - Type 1 device in use between June 2, 45 and Dec 6, 45
M. V. Touralhaut - Type 1 device in use on Feb 20, 45
There were a total of 23 French ships providing support to the landings of Operation Dragoon: (taken from - http://en.wikipedia.org/wiki/Operation_Dragoon_order_of_battle:)
French light cruiser Gloire
French destroyers Fantasque, Terrible, Malin
French cruisers Duguay-Trouin, Émile Bertin
French battleship Lorraine
French destroyers Le Fortuné , Forbin , Simoun, Tempête, Alcyon
French corvettes Marocain, Tunisien , Hova, Algérien, Somali
French sloops Commandant Domine, La Moqueuse, Commandant Bory, La Gracieuse, Commandant Delage, La Boudeuse
Comparing the two lists there are only three French ships that the Emile Bertin could have borrowed or acquired a Type 1 device:
Cruiser Gloire - Type 1 device in use between May 8, 44 and June 3, 45
Cruiser (Destroyer) Le Terrible - Type 1 device in use between July 4, 44 and Aug 18, 44
Destroyer (Corvette) Marocain - Type 1 device in use between July 3, 44 and Oct 21, 44
The cover had to have been processed for mailing on the Emile Bertin because of the Emile Bertin's ship canceling device is used to cancel the cover. If it had been processed on another ship it most likely would have had that ships cancel instead.
There are more questions that need to be answered but unfortunately it would take much more time and effort than I'm prepared to give at the moment but here's a list of questions that I've come up with:
Can anything more be done to find out who Miss Ruby E. Landrin really is?
What post office whould the cover ended up at and what was the total area covered by the post office in question?
How long does a letter have to sit unclaimed at the general delivery post office before being returned to sender or being declared a dead letter
If she has family still living do they have other covers that were sent to here by the same French sailor?
Did the Emile Bertin ever have a Type 1 device of its own or was the Landrin cover a one-time use with a borrowed device?
Is it possible that the Cruiser (Destroyer) Le Terrible gave up it's Type 1 device to the Emil Bertin thus accounting for the last known use 10 days prior to the Aug 28, 44 use on the Emile Bertin?
Are there other covers sent on the same day from the Emile Bertin?
Was the sender (Luco Jean?) actually part of the crew of the Emile Bertin?
What is the meaning of the manuscript "#24" found in the upper left corner of the face of the cover?
What is the meaning of the black negative "PL" found on the back just to the right of the purple Camden NJ Gen. Del. circular dated handstamp?
Other than mine I've only found a couple of other websites that deal with RF overprints and they are listed below..
The Internet Philatelic Dealers Association Inc. has pages for both fake and genuine RF overprints. The pages are maintained by Allan Oliver who has done an outstanding job of documenting fake overprints but is also in the process of taking a census of all known genuine covers so I encourage anyone who reads this and either owns a genuine cover or has a line on one to please let Allan know about it.
Update!
On a whim I went through the census of covers on the Internet Philatelic Dealers Association website on the chance that there may be another cover addressed to the same Miss Ruby Landrin as my cover and I'm happy to say that there was such a cover.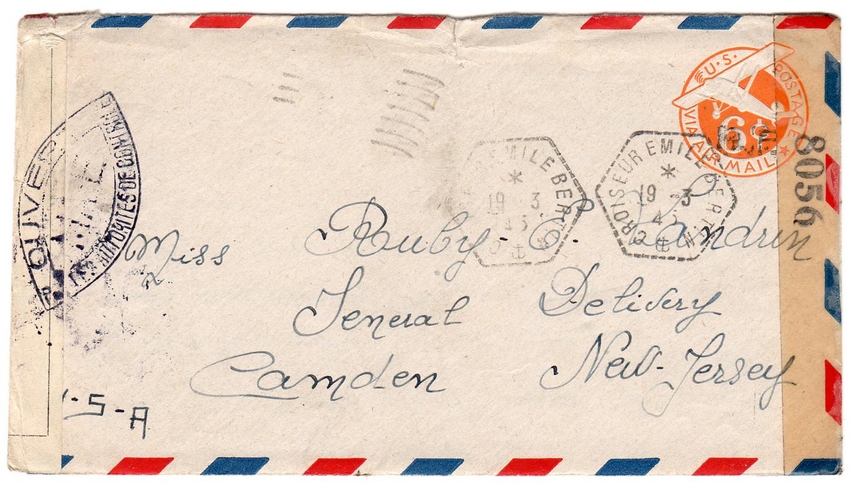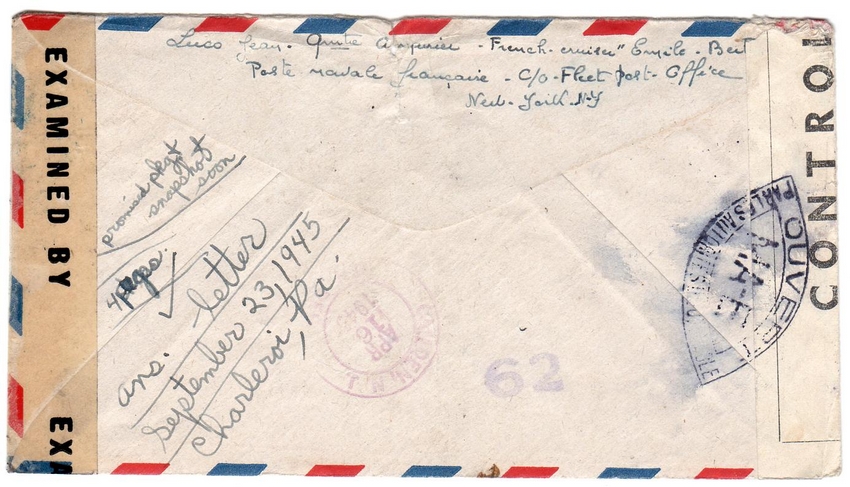 This cover has more information on the back than what is found on my cover:
Mailed March 19, 1945, arrived in Camden, NJ April 16, 1945 - 28 day delivery time.
Sent about two months shy of V-E Day (May 8, 1945).
Slightly different return address with the two added words after Luco Jean. I can't make out what the words are as of yet but I'm thinking it may be rank(?)
"promised pkg + snapshot soon" - is this a note from Miss Ruby to send a package and picture(s) to the French sailor or is Miss Ruby noting that the French sailor has promised in his note to send a package and pictures?
"4 pages" - Don't know if this refers to the number of pages that came in the cover or if this refers to the number of pages that Miss Ruby sent back to the French sailor. I'm leaning towards the later, I'm not sure that two sheets of paper plus the envelope could end up weighing less than half an ounce to qualify for the then going 6c airmail rate.
"ans. letter / September 23, 1945 / Charleroi, Pa.": This must be a note by Miss Ruby stating when she answered the French sailor. Not sure why Charleroi, Pa. (just south east of Pittsburg) was noted but it may help in identifying who Miss Ruby Landrin is (possibly her home town?)
Here is the description that is found with the cover:


This may be one of the covers noted by Goodkind in his census on page 60 of his booklet for the Emile Bertin - Type 3 overprint and March of 1945 post date. I'm of the opinion that in all liklyhood the remaining covers that are attributable to the Emile Bertin will probably be addressed to Miss Ruby Landrin. I'm going to keep an eye out for the ebay seller pacphil with the intent to make contact with him to see if there is any more information about this cover.
5/15/15: I did a Google search on Ruby E. Landrin and Charleroi, PA and got a hit on a geneology web site that has information from the 1930 census (see image below). If this is the same Ruby E. Landrin that is on these two cover then her age at the start of WWII would have been 28 years and 32 years old at the time of the second cover which would be of prime working age during the war. I can just imagin a young Ruby telling her parents that she is heading to Philladelphia to do her par for the war effort. another link on this same web site led to all of the Landrin family members at the time of the 1930 census. it appears that she was the eldest of three children and she had a younger sister and brother. I then figured that if the brother married and had kids then there might still be Landrins in the local Charleroi PA area and a Yellow Pages search came back with two people with the Landrin last name. I've decided to write these two people in the hopes they are indead related to Ruby E. Landrin in the hope that they can shed some light on her life at the time of the war.
Update!
11/26/15: I never got a response from either of the two letters that I sent out to the two Charleroi PA Landrins I found in the Yellow Pages search. I have to assume that they are either not related to Ruby Landrin or are not interested in talking to me. Here is the test of the letter I sent:
My name is Mike Girard and I'm a stamp collector. I own an envelope from WWII addressed to Ruby E. Landrin and I know of another envelope also addressed to Ruby E. Landrin – please see pictures of the envelopes on the following pages. My research has led me to believe that she may have lived in Charleroi, PA in the 1930's. Your name is one of two Landin's that were found in a Yellow Pages search of Charleroi phone numbers. My question to you is 'are you by chance related in any way to Ruby E. Landrin?' If you are not related or would not like to partake in my research please disregard the rest of this letter and let me apologize for taking up your time.
If you are related in some way to Ruby I was wondering if you could help me, in any way you can, find out more about her life during WWII. I know that during WWII she lived in the general area of Camden, NJ and sometime between August and December of 1943 she met a French sailor whose ship was in the Philadelphia Naval Shipyard for upgrading where they became friends and exchanged at least two letters. I have a number of questions that if answers can be provided would greatly add to my research about Ruby and her time during the war:
Are there any photographs of Ruby from 1940's

What did she do for work during the war?

Did she work in the Philadelphia Naval Ship yard?

Did she work for the USO or Red Cross?

Did she hold a civilian job in Camden, NJ such as waitress, hotel worker etc.?
I want to thank you again for your time and patience and I look forward to hearing back from you.
Very Sincerely Yours,
Michael Girard
I also included pictures of the cover I own and the cover that I had found on the Internet Philatelic Dealers Association website. Going forward I'm not sure what else I can do to add to what I already have on Ruby Landrin.
---
As always comments and suggestions are always welcome...
---
To Contact Riverside Stamps:
Email:
Mike Girard - Owner / Operator / Web Master: g1rardmn1099@comcast.net
---
I am a member of the American Philatelic Society

Member of:

APS #: 205494
Visit the American Philatelic Society
Website at www.stamps.org

I am a member of the United States Stamp Society




USSS #:

16733


Visit the United States Stamp Society
Website at www.usstamps.org

I am a member of the Internet Philatelic Dealers Association


IPDA #: 231
Visit the Internet Philatelic Dealers Association
Website at http://ipdastamp.org
---